Certain photos and images featured in the following video were taken pre-COVID19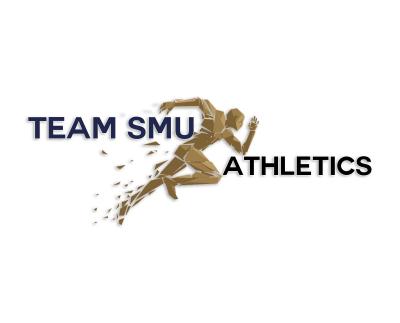 Certain photos and images featured in the following video were taken pre-COVID19
SMU Athletics
ABOUT US
Sprints. Distance. Jumps. Throws.
Whether you want to explore the different disciplines of track and field, or just want some recreational road running, we welcome competitive and recreational athletes alike. Come join SMU Athletics and Exceed Yourself with us!
KEY EVENTS
Inter-Varsity-Polytechnic (IVP) 
The Institute-Varsity-Polytechnic Games (IVP Games) is a series of sports and games that students of the local tertiary institutions compete in annually. The IVP Games serve as a platform to foster goodwill and friendship through active participation in sports and to improve the standard of sports among the participating tertiary institutions. Every year, our athletes look forward to representing the school to compete with other tertiary institutions.

SUniG (Singapore University Games)
This series of games was conceptualised as a competition for university students to get together. Every year, Athletics will sending our athletes to represent the team to compete. 

SA All Comers Meet 
Apart from larger scale activities, our athletes actively participate in all comers meet series to keep up the competitive spirit.

Sundown Marathon / Standard Chartered Marathon
Every year, we will strongly encourage our distance runners as well as the recreational runners to participate in marathons with subsidies provided so that all are involved in competitions throughout the year. 

Community Service Project
Athletics has its own CSP every year in which we use our expertise to give back to the community.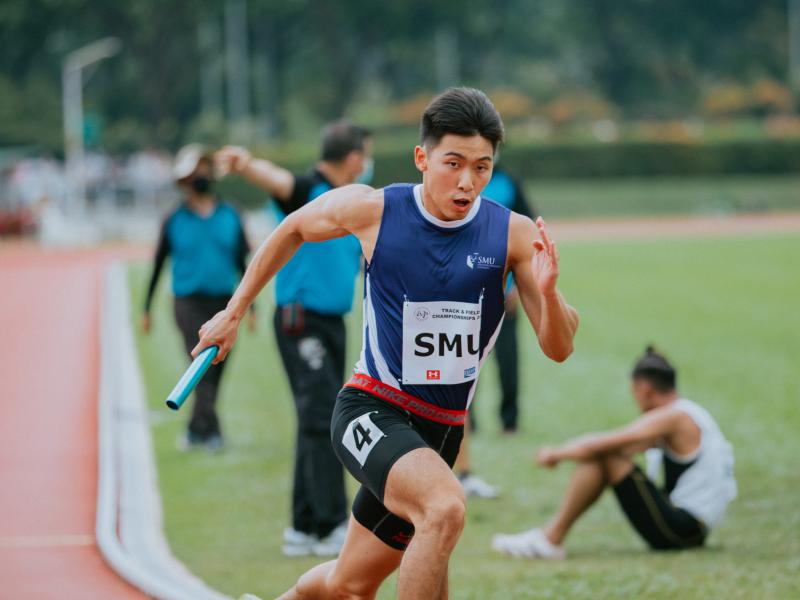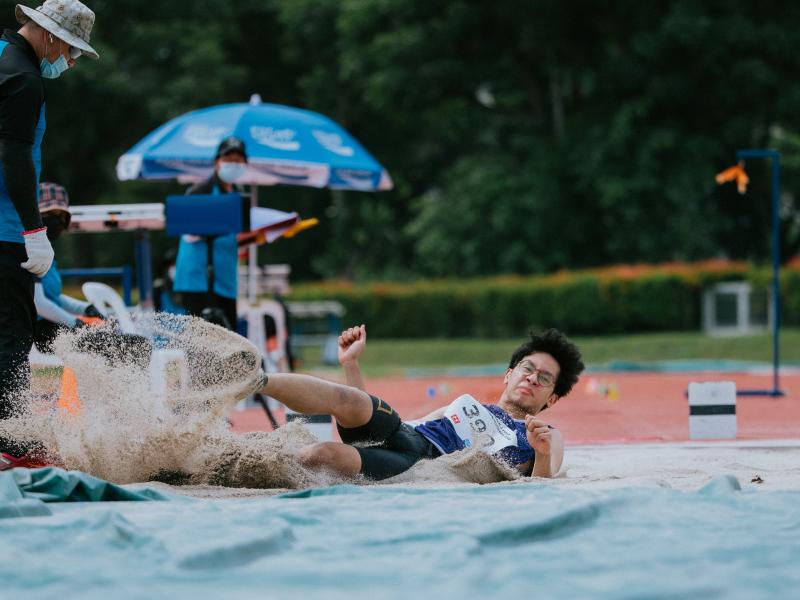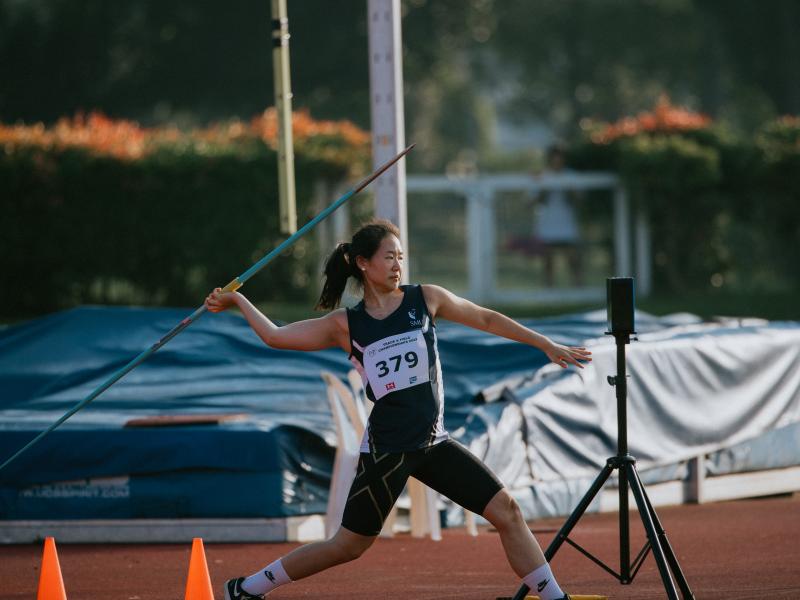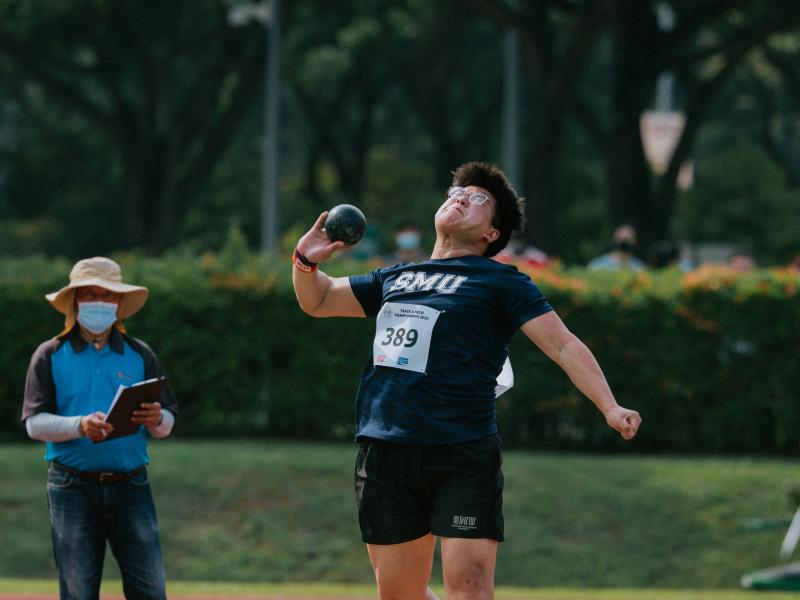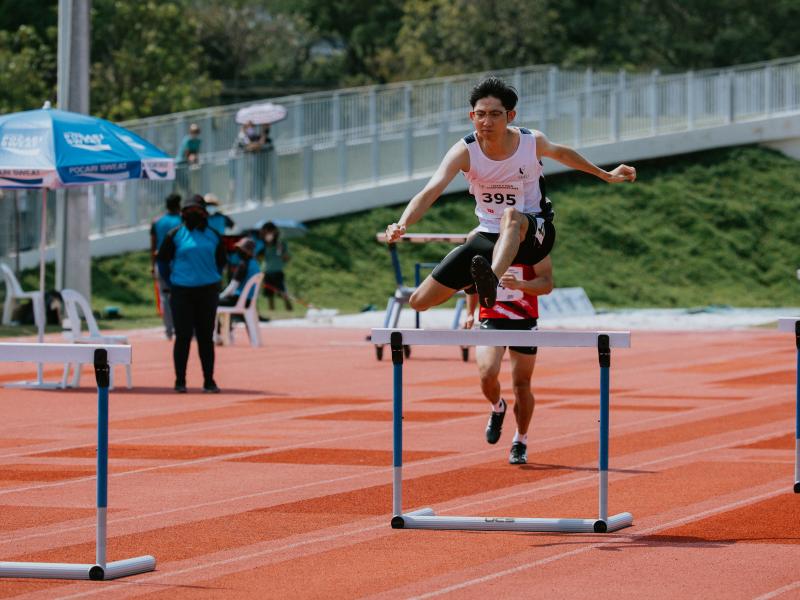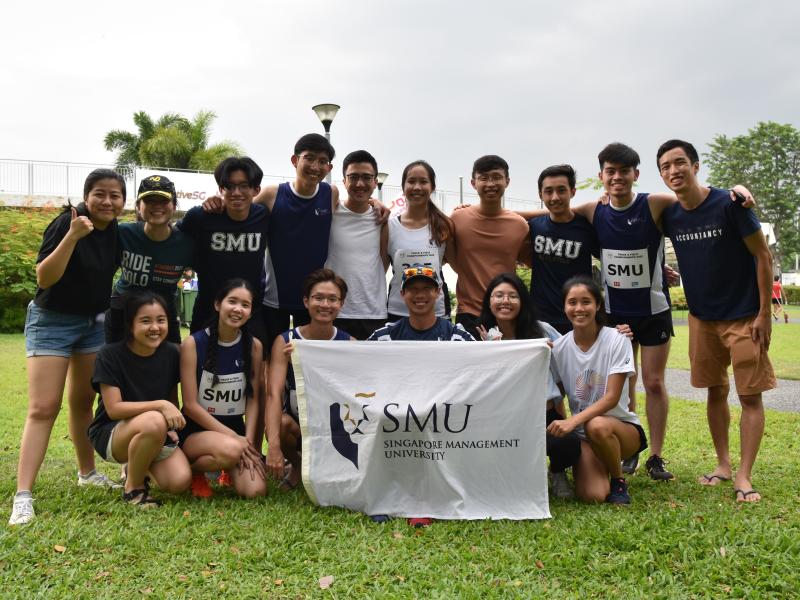 OUR TRAINING
COMPETITIVE
| | |
| --- | --- |
| Day | Tuesdays and Thursdays |
| Time | 7:00 pm |
| Venue | Kallang Practice Track |
RECREATIONAL
| | |
| --- | --- |
| Day | Tuesdays and Fridays |
| Time | 7:00 pm |
| Venue | SMU Campus Green |
OUR ACCOMPLISHMENTS
IVP 2022
1st Place for Men's Shotput 
1st Place for Women's Javelin
2nd Place for Women's 100m
2nd Place for Women's 200m
DO I NEED TO AUDITION TO GET INTO THE CLUB? 
NO, SMU Athletics welcomes any student who is interested in taking up the sport!
"I have never been good at running so I wish to challenge myself and get fitter. I also wish to make some friends and have fun!"
- Ong Hao Jan, Shannon, LKSCB, Year 1
"Because I love track and field, and I want to join a close community to make friends."
- Tan Kwan Shao Gabriel, School of Economics, Year 1
I'm interested in joining SMUA, but I'm not sure if I'm good enough to join competitively. Is there a trial session?
Training sessions are open to all (no prior experience required) and we welcome everyone at all levels of fitness in both teams and implore you to join us on this journey. Join us for a session and see how it goes!
In the competitive team, we look at a higher commitment level to work towards representing the school in key athletics events (this includes IVP / Singapore University Games and other outside competitions). 
On the other hand, the recreational side holds semiweekly runs catered towards different levels of fitness.
Is there a minimum attendance?
As the nature of the competitive team requires a higher level of commitment, there is a requirement for members to attain 75% attendance for training. Meanwhile, we would encourage anyone interested in joining the recreational team to attend a minimum of 5 runs per semester.
Continue your investigation here...