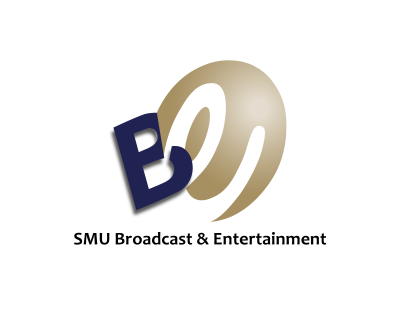 SMU Broadcast & Entertainment

ABOUT US
Established in 2004, Singapore Management University Broadcast & Entertainment (SMUBE) provides specialised entertainment support through its four wings - Artiste Management Team, Campus Radio, Campus Television, and Events & Backstage, with the support of our Marketing & Public Relations department.
Venture out of your comfort zone and unlock your potential with SMUBE! Hone your skills and explore the exciting realms of hosting, podcasting, video production, backstage support, and marketing communications under the guidance of industry professionals. Put your skills to the test by being a part of SMU's largest events such as SMU Patron's Day, SMU Arts Festival, and many more!
Still need a vibe check? Check us out on our WEBSITE. 
Join our dynamic community today, REGISTER HERE. 
KEY EVENTS
BE-Xposé [September]
Do you have a burning desire to discover the ins and outs of the versatile and multi-faceted SMU Broadcast & Entertainment? Come join us at our fun taste-tester freshmen event, BE-Xposé! With many workshops to experience being an emcee, a radio jockey, a part of the video production crew or technical backstage team, or a marketing executive. So, what are you waiting for? Sign up today!
Voice Personality Hunt (VPH) [24 July – 1 September]
Attention all aspiring hosts! Join us at The Voice Personality Hunt, the most prestigious hosting competition in SMU! Grab the golden ticket to showcase your amazing hosting talents and dazzle us with your charismatic personalities. Seize this once-in-a-lifetime opportunity and stand a chance to walk away with attractive prizes and priceless memories created in the exhilarating world of hosting!
OUR TRAINING
ARTISTE MANAGEMENT TEAM
Class
A
B
Day
Mondays
Time
4:00 pm to 6:30 pm
7:00 pm to 9:30 pm 
Venue
TBC
CAMPUS RADIO
Day
Wednesdays
Fridays
Time
6:30 pm to 9:30 pm
7:00 pm to 10:00 pm
Venue
TBC
CAMPUS TV
Day
Thursdays
Saturdays
Time
3:00 pm to 7:00 pm
09:00 am to 1:00 pm
Venue
TBC
EVENTS & BACKSTAGE
| | |
| --- | --- |
| Day | Tuesdays & Thursdays |
| Time | 7:30 pm to 10.30 pm |
| Venue | TBC |
MARKETING & PUBLIC RELATIONS
| | |
| --- | --- |
| Day | Saturdays & Sundays |
| Time | 1:30 pm to 5:30 pm |
| Venue | TBC |
OUR ACCOMPLISHMENTS 
University Student Life Awards 2022

Certificate of Commendation

University Student Life Awards 2021

Certificate of Commendation

University Student Life Awards 2020

Certificate of Commendation

University Student Life Awards 2019

Certificate of Commendation
"SMUBE has shaped me to be much more confident in myself while also pursuing interests and hobbies in hosting and radio. The energy in this club is so quirky and vibrant it's worth your time exploring something new in university!"
- Shanna, School of Business Year 4, Former Campus Radio Deputy Director
 
"I've learned so much being here. The skills you pick up here are really useful, especially now that we've all gone virtual and video content is such a big deal, and I've made some pretty cool friends along the way too!"
- Faith, School of Social Sciences Year 2, AMT/Campus Radio Member
HOW TO JOIN THE CLUB?
Artiste Management Team (AMT)
There will be an audition, but we like to call it a 'get to know you' session! This is a time where we'll get to see you in action, to know a bit more about you, and your hosting journey.
Campus Radio (CR)
There will be no auditions, but we'd love to hear you say what you wanna say through a short interview session. So don't be shy, just swing by!
Campus TV (CTV)

Have a chat with our CTV directors for us to learn more about each other! There are no scary auditions, or testing of how fast you can set up the camera... just spare us some time for a short interview!

Events & Backstage (E&B)
There will be no auditions. Have a short chat with our E&B directors, for us to get to know more about you!

Marketing & Public Relations (MPR)
There will be no auditions, but we will be having short interviews so we can get to know you and your interest in Marketing and Public Relations! We are looking for people passionate about designing and creating, so do sign up if this sounds like you!
What is the CCA commitment like?
Depending on which wing/department you join, there will be training sessions throughout the semester. Upon completion of your industry-level training, you will get the opportunity to hone and apply the skills you've picked up by organising and/or participating in events, taking up gigs, and exploring the vibrant student life that awaits you!
Can I join more than one wing/department?
Yes! You are free to join as many wing/department(s) as you would like. This way you can pursue all your interests at SMUBE. Do note that each wing membership is subject to prevailing fees and schedules. You may speak to our representatives at our VIVACE booth for a more detailed overview!
I am someone without experience. Is SMUBE the right place for me?
While prior experience in the media space is always a plus, we welcome all that are interested in joining our vibrant BE family – both new and current students! We'll ensure that you get the necessary training and opportunities for your pursuits in the relevant media fields!
Do I have to pay to join the club?
There will be a $50 membership fee that will be collected upon enrolment into SMUBE. This membership fee will cover the training cost and welfare.
What is unique about SMUBE?
Upon completion of your training in your first year in SMUBE, you will then be certified to take on events and gigs alongside fellow Club members and put your skills into practice.
Continue your journey here...