Governance, Registered and Independents Clubs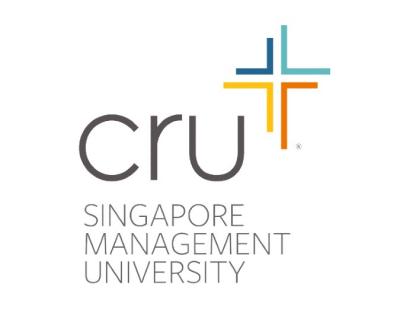 SMU CRU

ABOUT US
SMU Cru is a caring community that is passionate about following Jesus Christ and connecting people to Him. Together, we learn to read the Bible through fresh lenses, support one another through active faith steps, and get equipped for global missions – starting from our very own campus. We desire to give everyone a chance to hear and respond to the good news of Jesus!
What's more, you can expect to find a second family here! Our defining culture is that our Crusaders share authentic relationships. In SMU, we know how easy it is to be caught up with #hustleculture; Cru serves as an anchor to our identity and purpose as disciples of Christ in school. We want to be Christians who happen to be students, not students who happen to be Christians. 
We would love to welcome you into our Cru family. See you!
KEY EVENTS 
Cru Freshman Orientation Camp (Date: 25th - 26th August)
Our camp theme this year is Ecclesia, where we learn what it means to be the called out church that Jesus meant for us to be. Join us for a meaningful time of fellowship with like-minded peers, and discover a supportive community for yourself. Together, let's kickstart your university journey in SMU with a Christ-centered, God-honouring focus!
Cru Night Out
An event held during Week 8 (Recess Week), where our Crummunity comes together to have a good time together - with fun games, good food, and a meaningful time of worship and sharing.
OUR TRAINING
Weekly Discipleship Groups 
4-6 members who meet weekly for 2 hours to share life and study God's Word. This same group journeys together from freshman year all the way to graduation!
Timing: Flexible timings decided by the group
Weekly "JUMP" Sessions
Weekly sessions where Crusaders gather for worship, equipping for spiritual disciplines and outreach, and cosy fellowship.
| | |
| --- | --- |
| Day | Fridays |
| Time | 4:00 pm to 6:00 pm |
| Venue | TBC |
HOW TO JOIN THE CLUB? 
Students do not need to go through an interview to join SMU Cru. We welcome anyone to join our Cru family! :) Feel free to reach out to us on Instagram @smucru_sg or drop us an email at smucru@sa.smu.edu.sg if you've any questions for us!
I joined Cru because I wanted a to find a Christian community in school and to grow closer to God with a like minded people!
- Dawn Quah, Year 2, SOB
I joined SMU Cru as a personal desire to grow more in sharing the gospel, but yet I chose to stay because of the community and the like-minded friends that I've found.
- Brian Kang, Year 2, SOB
"Cru has greatly blessed my university life and provided me with a safe community of friends that I can turn to in every circumstance. My discipleship group and orientation group are platforms that I trust fully to share anything on my mind and this constant friendship is something that I'm really grateful for. "
Zoe Soo
LKCSB: Year 2
"I discovered purpose in this phase of campus life through SMU Cru, experiencing joy and personal growth during the journey of being discipled and mentoring. Met some of my closest yet like-minded friends here as well, sharing both spiritual and 'academic' joys and hardships." 
Chua Shan En
Alumni
Previous
Next
What is Cru about ?
Cru is all about Discipleship, Evangelism and Missions. We study the Word thematically, learn how to contextualise it and live it out, and proactively share His love to those on our campus. We also welcome non-Christians into our community to have deeper conversations and learn from one another.
Why should I join Cru if I'm already involved in church?
Being plugged into a Christian community on campus surrounds you with like-minded friends that keep you rooted and maturing in your faith during your toughest Monday to Friday grind. In Cru, we learn how to share the gospel with relevance, sensitivity, respect and truth. Our hope is to build you up and send you back to your church better equipped to serve them!
What is a Discipleship Group?
A disciple group (DG) is a group of 4-5 students paired with a senior that meets weekly. During the weekly sessions, we share life, expound God's word together and pray for each other. We form deep connections and accountability as we journey together in our 4 years on campus. 
Continue your journey here...