Governance, Registered and Independents Clubs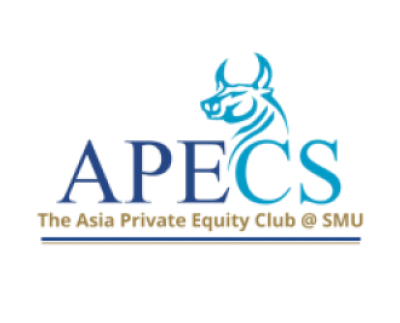 Asia Private Equity Club (APECS)

ABOUT US
The Asia Private Equity Club @ SMU (APECS) is an intra-varsity club that aspires to bridge the gap between undergraduates and industry professionals in the Private Equity and Venture Capital space.
APECS is open to anyone interested in the private markets, regardless of your background, as long as you are interested and committed to learning. We conduct fundamental training on technical skills starting from the basics, to equip you with the knowledge required to thrive in the VC and PE industry.
KEY EVENTS
Venture Capital Case Competition (VCCC)
VCCC is an annual case competition focused on the venture capital industry, bringing together over 100 teams from multiple tertiary institutions across Singapore. In collaboration with industry partners such as Monk's Hill Ventures and Jungle Ventures, we organise and host this prestigious event, providing a premier platform for participants to showcase their skills.
Private Equity Case Competition (PECC)
PECC is an annual case competition that revolves around the world of private equity. As the organisers and hosts of this highly esteemed event, we bring together teams from across ASEAN, collaborating closely with our industry partners from L Catterton, Warburg Pincus, and CDH Investments to ensure an enriching experience for all participants.
APECS Networking Night
The annual APECS Networking Night provides a platform for students to engage with industry professionals in the private markets. We welcome esteemed industry professionals, together with seniors who have entered prestigious fields in finance such as investment banking, venture capital, consulting, and global markets. Don't miss this opportunity to gain industry insights and make valuable connections, both in and out of SMU! 
OUR TRAINING
| | |
| --- | --- |
| Day | Every Saturday |
| Time | 10:00 am to 12:00 pm |
| Venue | SMU Seminar Rooms |
OUR ACCOMPLISHMENTS
VCCC and PECC
Organised extensive national competitions with more than 200 participants hailing from various regions across Singapore and ASEAN.

APECS Networking Night
Successfully coordinated a major networking occasion that brought together over 80 attendees, including esteemed industry partners such as Qualgro Partners, Asia Partners, Heritas Capital, MassMutual Ventures, and many others!
HOW TO JOIN THE CLUB? 
Join us by signing up via our interest form which will be available through your student email soon. For more details, you can find us at our booth at Vivace or follow us @smuapecs on instagram for more details!
If you're keen on joining our analyst programme, be ready for a case study and an interview with our EXCO members. For general members, a one-time fee will provide access to our materials and networking events. We're eager to connect with you soon!
"APECS has not only allowed me to develop as an individual, but provided me with the support system and community to thrive - both personally and professionally. It is undoubtedly one of the highlights of my SMU experience."
– Marcus Cheu, 7th Exco President (VC), LKCSB, Year 3
"APECS has given me the opportunity to be a part of a family-like community of like-minded and helpful individuals that have impacted me immensely, both personally and in my pursuit of a career in the finance industry."
– Cavyn Chong, 7th Exco President (PE), SOA, Year 3
"If SMU is a window of opportunity, APECs definitely helped me to pull up the shade. I got to meet brilliant people in the industry who not only inspired me, but helped me to achieve greater heights in both my education and career."
Leanna Wang
LKCSB: Year 2
"APECS has given me the opportunity to be surrounded by self-driven and intelligent people who have motivated me tremendously. The club has definitely provided me a head start in my pursuit of a career in the finance industry."
Jeffrey Goh Wai Hong
LKCSB: Year 2
Previous
Next
What is Venture Capital (VC) and Private Equity (PE)?
VC and PE concentrate on investments in privately-held companies. VC zeroes in on innovative startups, offering the funding they need to scale. Successful VC-backed ventures such as Zoom and Bytedance (TikTok) have revolutionised their industries, underscoring the transformative power of venture capital.
Conversely, PE invests in more mature businesses boasting proven models and market footholds. It secures company stakes through a range of investment strategies, evident in entities like Dell Technologies and Manchester United Football Club.
Both VC and PE fuel business success with their capital, expertise, and resources, offering potential for substantial long-term investor returns.
What can I gain from joining the analyst programme?
As an APECS analyst, you will gain a solid foothold in the private markets through our weekly lessons on VC and PE. You will be provided with a wide range of networking events with renowned industry professionals, which often extend into internship opportunities. We are proudly sponsored by CAIA and ESSEC, with opportunities to connect with them or earn professional certifications.
Additionally, our club provides close mentorship from seniors, fostering a tight knit community of like-minded peers in multiple areas of finance. Join APECS to learn from experienced seniors, network with esteemed professionals, and foster deep friendships!
What are the requirements to get in?
Prior experience in finance is not a prerequisite at APECS - we welcome anyone eager to learn. We value curiosity, a dedication to personal growth, and most importantly, a healthy enthusiasm for fun!
What makes you different from other finance clubs?
What sets APECS apart from other finance clubs is our exclusive focus on the private markets, specifically VC/PE, distinguishing us from clubs that primarily focus on the public market. Our analysts dive deeper into business models and market trends, enriching their understanding of the VC/PE industry while maintaining technical precision.
What APECS can offer is our personalised approach towards guiding people on their desired paths in finance, courtesy of our smaller, more focused cohorts. This structure fosters an environment conducive to both professional and personal growth. Furthermore, we have an extensive network of industry partners that complements our robust curriculum and provides a rich source of real-world insights into the complex world of private markets.
What is the difference between the analyst and general member programme?
For our analyst programme, you are required to undergo a selection process, including a case study and an interview. You will benefit from extensive mentorship and lessons provided by our seniors, engage in internal case competitions, and enhance your technical ability and presentation skills. Additionally, you will receive exclusive access to all materials and networking events organised, where you can connect with industry professionals in the VC/PE space.
As a general member, you will have access to recordings, slides and monthly newsletters, which will provide a deep understanding of VC/PE. You will also have the opportunity to attend our APECS masterclasses and the APECS Networking night!
We highly recommend the analyst programme for students looking to experience firsthand the journey and decision-making process of a professional in the private equity and venture capital space.
Continue your journey here...