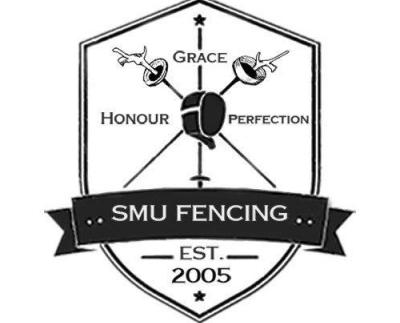 SMU Fencing

ABOUT US 
Fencing is a sport where we regularly cross blades with our opponent in exciting duels that we usually only see in fantasy movies. 
SMU Fencing Club is a premier Fencing Club established in 2005 that specialises in epee. With minimal rules, Epee has a stronger emphasis on strategy instead of speed and strength, making it the perfect weapon for beginners. All the necessary equipment is provided by the club and members are able to loan them for use during training! 
Because of this, most of our members experience fencing for the first time with us, so for beginners you will always be surrounded by newcomers! For those with experience, there are numerous seniors and alumni with competition experience who can't wait to spar with you! Our weekly trainings are specially crafted to suit fencers of different proficiencies on top of improving both physical and mental strength.
KEY EVENTS
Asian Varsity Fencing Championships
Every year, we host the Asian Varsity Fencing Championships, an international varsity level fencing competition which draws hundreds of participants yearly. Additionally, there are a number of smaller external and internal competitions all year round that members can look forward to! 
Fencing Day
Fencing day is a unique event for all SMU students to take part in, where they will learn the basics of fencing, play various fencing-related games and compete in a mini fencing competition at the end of the event to win attractive prizes. We aim to  raise awareness of fencing as a sport, provide networking opportunities and offer an avenue for SMU students to destress from their final examinations and have fun with one another.  
Rookie Challenge
An annual competition held within SMU Fencing for beginner fencers to compete against one another with a chance of winning their very own personal epee blade.   
OUR TRAINING 
Day
Mondays
Fridays
Saturdays
Time 
7:30 pm to 9:30 pm 
4:00 pm to 6:00 pm
5:00 pm to 7:00 pm
Venue
School of Information Systems Gym Studio
ACCOMPLISHMENTS
2023 Asian Varsity Fencing Championships

Men's Sabre Individual Gold, Silver

Men's Foil Individual Gold

Women's Sabre Individual Gold, Silver

Men's Sabre Team Bronze

Men's Foil Team Silver

2022 NUS Fencing Challenge

Tertiary Cup - Overall 2nd

Women's Sabre Individual Gold, Bronze

Women's Sabre Team Gold

2022 Singapore Senior Tournament

Senior Men's Foil Individual Gold

Senior Women's Sabre Individual Gold

2022 Novices Fencing Championships (Individual)
Women's Epee Individual Gold
2022 Singapore Senior Championships
Women's Sabre Individual Gold
2021 Singapore Senior Championships
Silver and Bronze medals
2021 Singapore Senior Tournament
Gold and Bronze medals
HOW DO I JOIN THE CLUB?
There will be clinics which will allow you to try out fencing and audition for the club, so that you can decide if it's a good fit for you. Do look out for information sent via email!
"I miss the sport and I hope to improve my skills!"
- Crystal Khoo, School of Business, Year 1
"I enjoyed watched fencing during the Olympics and would love to try it!"
- Rishika Agarwal, School of Business, Year 3
Do we have to pay membership fees and buy equipment?
There are no membership fees and we provide equipment! However, Members are expected to account for and take care of their loaned items. For example, items such as the fencing jackets and breeches (pants) will have to be brought home for washing after use. If members prefer to have their own equipment, we are able to assist them in getting properly suited up too!
Is Fencing dangerous?
A fencer will wear breeches, long socks, a chest guard, a safety shirt, suit and mask - what this means is that fencing is very safe because you will be covered head to toe. Fencers tend to get bruises when we train, just like any other sport, but you can rest assured Fencing is one of the safest indoor sports out there.
I have no fencing experience, will I be able to learn fast?
The rule of epee is to hit your opponent before they hit you. Regularly attending training sessions from the get-go is the best way to pick up the sport fast. It can be hard at first, but we have seniors and coaches who will be there for us every step of the way!
Can experienced fencers join?
We definitely encourage you to join! Our club has a lot of experienced fencers from other disciplines such as sabre and foil. We send our experienced fencers for various competitions and have always seen good results.
Continue your journey here...