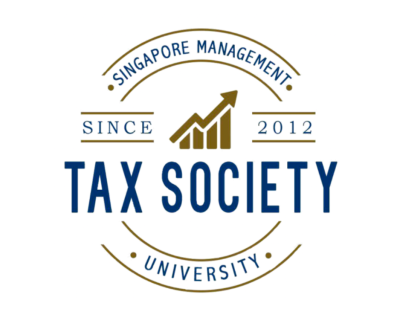 SMU Tax Society

ABOUT US
Founded in August 2011, our club strives to become the hub of professional growth and learning by cultivating a vibrant student tax community within SMU. We focus on providing a platform for participants to kindle their interests in the accounting and tax industry. If you're seeking avenues to expand your horizons in the field of tax and apply concepts to real-life tax issues, our club is the right place for you!
Some of the exciting activities organised by our vibrant Executive Committee include our flagship annual Tax Case Challenge; our very own networking event - the Tax Alumni Night; as well as an informative Mid-Term Career Talk sharing by tax professionals. We are also proud to present new initiatives such as our Tax Workshop: "Tax Bites 101"; Tax Mentorship Program; and the inaugural edition of our Tax Career Guidebook to assist students in navigating their career paths.
Supported by the Big Four accounting firms, regulatory, and accreditation bodies, our club provides the ideal platform for you to expand your network and gain a greater appreciation for the tax landscape. Wait no further, join us now!
KEY EVENTS
Mid-Term Career Talk
One of our signature events where TSoc invites distinguished guests from various specialisations in the tax industry to share their experience with our participants. This event aims to provide students with a deeper comprehension of the tax industry when considering future careers or internship opportunities, and provide networking opportunities with professionals from the invited organisations.
Alumni Night
Our very own yearly networking event where SMU students and alumni are invited for an exciting night filled with games and refreshments. This event creates a platform for SMU students and alumni to connect over food and entertainment, and have the opportunity to learn about the tax industry.
Tax Case Competition
Our annual competition where students put their tax knowledge to the test and apply what they have learnt to a real-life context. With tax professionals as judges, this event aims to raise awareness of taxation among tertiary students currently pursuing their studies in Institutes of Higher Learning (IHLs) while gaining real-world insights into tax.
Tax Workshop (Tax Bites 101)

Tax Bites 101 is a new initiative launched in 2023 that aims to equip students with foundational and relevant tax concepts in an engaging way, and the roles that taxes play in our lives and in society. From 2024 onwards, Tax Society will be organising tax workshops annually to expose students to Singapore taxation principles and give students an opportunity to learn about tax in a fun way!

Tax Mentoring Program 2023

The Tax Mentorship Program is a new initiative that will offer SMU students an opportunity to connect with industry leaders and seek their guidance and advice on a Tax & Accounting career. The program is a 4-month journey that will last from September to December 2023. It aims to provide SMU students with a better understanding of Singapore's tax industry with monthly social meet-ups organised for both the mentors and mentees.
HOW TO JOIN THE CLUB?
Students who attend two or more of TSoc's events within one Academic Year will be granted General Member status. There is no additional payment required to attain General Membership.
How do I join TSoc?
Executive Committee
You may indicate your interest to join the EXCO and fill in the form during VIVACE 2023. We will invite you for an interview once the recruitment process for the next batch of Executive Committee members gets under way.
General Membership
Students who attend 2 or more of TSoc's events within 1 academic year will be granted general membership. There is no additional payment required to attain General Membership.
In the meantime, you can keep in touch with us via Telegram - https://t.me/SMUTaxSociety, Instagram - @smutaxsociety and LinkedIn - Tax Society @ SMU!
How are the commitments like in TSoc?
There are no regular commitments for General Members. However, if you do join the mentoring program, there will be a monthly commitment to connect with your mentors.
Executive Committee members are responsible for managing club activities as well as organising our club events.
What do you do as part of TSoc's EXCO?
TSoc is an event-based club, and we have 4 departments: Events, Public Relations, Marketing, and Research & Development. Your roles and responsibilities will depend greatly on the department to which you apply. Come and find out more about us during Vivace!
What does TSoc hope to provide to its members?
TSoc aims to provide students with the opportunity to delve into the realm of taxation, to foster a deeper understanding of it as a prospective career or simply to satisfy your curiosity and interest. Additionally, we aim to serve as an avenue for students to expand their professional network in the dynamic domains of accounting and tax. We offer opportunities to gain valuable insights into the meticulous planning involved in organising large-scale events. You will also have the chance to forge meaningful connections and form friendships with like-minded individuals.
Continue your journey here...