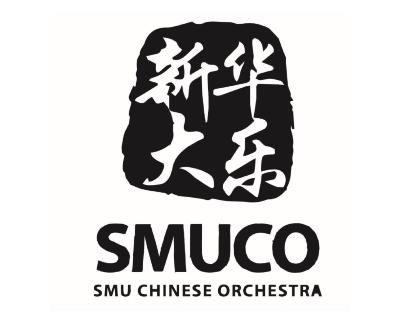 SMU Chinese Orchestra

ABOUT US
Since its inception in 2009, SMU Chinese Orchestra (SMUCO) has distinguished itself through various cross-disciplinary works and creative programming under the baton of Quek Ling Kiong. In 2019, SMUCO celebrated its 10th anniversary with a commemorative concert Perfect 10 - FM SMUCO. While COVID-19 had paused live performances, SMUCO continued to be creative and adaptable through presenting virtual performances such as the 2020 production, To Gather as part of the SMU Arts Fest. In 2022, SMUCO returned to the physical stage with Spring Rhapsodies. SMUCO celebrated its 15th year with GLOR1OU5 in 2023, performing to over 600 people. Today, under the direction of Artistic Consultant Quek Ling Kiong and Principal Conductor Heng Xiangle, SMUCO continues to pursue its passion for Chinese Orchestral music, preserving traditions whilst incorporating contemporary influences, and endeavours to always deliver exceptional music to its audience.
KEY EVENTS
University-wide events
From SMU's annual Arts Festival, to external gigs with various parties such as Esplanade, SMUCO does it all! Just this year, SMUCO was invited by the Singapore Chinese Orchestra to perform for their Chinese New Year pre-show, Music Tapas, at the Singapore Conference Hall.
Community projects
SMUCO has been actively giving back to society by volunteering and even performing with The Purple Symphony (TPS), an orchestra for the special needs. 
Annual production
SMUCO makes an effort to showcase each member's hard work and talent every year. Missed performing on stage with friends? Join the club now!
 OUR TRAINING
Day
Fridays
Saturdays
Time
7:00 pm to 10:00 pm
1:30pm to 4:30pm
Venue
SOE Level 7
*Trainings are only applicable during production period.
HOW TO JOIN THE CLUB?
Students do not need to audition/ interview to join SMU Chinese Orchestra, we welcome all students who are passionate about music. However, the relevant musical background would be required. Feel free to reach out to us via email to clarify!
"SMUCO has not only been an enriching CCA journey for me so far- it has also been a fulfilling and meaningful learning experience. Because of our unique ensemble structure, we play pieces out of the ordinary- honing our skills as musicians, while also enjoying a tightly-knit musical community"
Gu Jiawen, School of Business, Year 2
"My student life became more exciting because of SMUCO as it gave me that something to look forward to every week. From staging one-of-the-kind concerts to forging lasting friendships with the special-needs musicians in The Purple Symphony, SMUCO is an eye-opener experience in many ways which cannot be found elsewhere"
Ng Shu Qi, School of Accountancy, Year 4
What performance opportunities can I look forward to in SMUCO?
We host an annual concert where we get the autonomy to plan and perform our favourite songs. We also collaborate with The Purple Symphony (TPS), an orchestra for special needs. You can obtain CSP hours from this! Additionally, we are also involved in SMU's annual Arts Festival where we come up with all sorts of interesting programs – ranging from a joint performance with SMU Symphonia to putting up a professional documentary series featuring our music and care for the society. Lastly, we do perform at external gigs and engagements as well.
Are the training sessions rigorous in SMUCO?
We only have training sessions prior to performances and hence there would be ample time for you to focus on your studies and also other hobbies! Moreover, many of us feel that training sessions are actually a stress reliever for us as we get to take a break from studying.
Can I join SMUCO if I do not have prior experiences in Chinese Orchestra?
Unfortunately, we are unable to accept people without any background in Chinese Orchestra or Chinese music as there would only be training during production periods. Nevertheless, we do accept percussionists with musical backgrounds. Should you be keen to join us, feel free to approach us via email and we will try to work something out together with you!
Continue your journey here...