Governance, Registered and Independents Clubs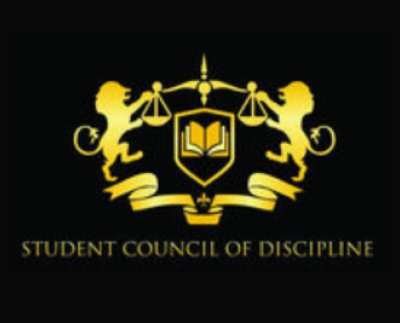 SMU Student Council of Discipline (SCD)

ABOUT US
SMU Student Council of Discipline (SCD) is a unique student-run institution appointed by the SMU Provost to work with the Office of the Dean of Students to provide a feedback channel for students on academic and non-academic disciplinary issues and to promote SMU's CIRCLE Values. 
Commitment, Integrity, Responsibility, Collegiality, Leadership & Excellence are SMU's CIRCLE values. We actively promote the CIRCLE Values through student engagement and awareness campaigns throughout the academic term to uphold students' interest and welfare in SMU. 
You will be equipped with event planning skills, project management, marketing, and more by joining us! Additionally, you will develop stakeholder management and communication skills. Our senior advisors will guide and mentor each member for seamless integration into the Council and your roles. 
In SCD, you will have ample opportunities to develop your intellectual & creative skills, personal mastery, interpersonal skills, and global citizenship. These are SMU's vital Graduate Learning Outcomes (GLOs) you will achieve as a student.
KEY EVENTS 
Ignite Integrity with SMU Libraries
SCD collaborated with SMU Libraries in creating a mini bingo game to promote academic integrity through increasing awareness on plagiarism, accurate citation format and research skills. Databases offered by SMU Libraries were also promoted as a reliable source for students to obtain information. This 2023 edition was our first physical event held with the Library in 2 years, after the Covid pandemic.

CIRCLEs Bazaar
SCD's flagship event that involves all the CIRCLE values and encourages the SMU community to exhibit them through fun and engaging games.
OUR TRAINING
4 General Meetings
2 Retreats
1 Council Meeting (once every 2 weeks, flexible)
OUR ACCOMPLISHMENTS
2021
University Student Life Award

2022
University Student Life Award
HOW TO JOIN THE CLUB? 
There will be info sessions and an interview to recruit the 21st Council. More information regarding the recruitment process will be provided closer to the date via SMU email and other social media platforms. Do look out for our Coffee Chat session to find out more about us.
"Joining SCD was one of the best decisions I've made in my SMU journey. It has given me the opportunity to grow both professionally and personally, while serving the SMU community. The invaluable experiences I have accumulated through organising events has been extremely transferable across various roles. The function of SCD is to produce innovative leaders to serve the SMU student body. Be part of our SCD family to gain practical experience in a safe environment."
- Shahira Begum, SOA Year 3, 18th Council President
"SCD has been one of the enriching experiences I have had in my last 3 years in SMU. Having been part of the committee in Yr 1, SCD has exposed me to the challenging tasks of engaging our student body while coming up with many creative and innovative campaigns. One of my greatest takeaways from my time was definitely the committed guidance that our senior advisors and staff have given us throughout. I met many wonderful helpful seniors and peers in SCD who have definitely given my SMU journey a little bit more colour."
- Diuzza Anne Fernandez Aragon, SOSS Year 4, 16th Council Marketing Director
"Being a part of SCD made me learn many aspects of advocacy. Serving the student population meant that we have to do our best to inculcate the CIRCLE values that the school has while also convincing the students to believe in it through campaigns. It is not an easy one but definitely worth the journey."
Wilson Ng
SIS: Year 4
"Looking at the past initiatives that SMU SCD has had, I am keen in SCD because I feel that it is very meaningful to be able to reach out to the school community and let them know more about our CIRCLE Values. I also see the tight community in SCD and feel that SCD is a nice place to be in so I would love to be part of this bigger family :)"
Tang Jing Yi Claire
SOA: Year 2
"SMU SCD will allow me to to work with multiple SMU student bodies, which will be a new and very different experience for me. I hope to contribute to SMU in my own little way, and SMU SCD seems like a good place to do so."
Lim Jia Ying
LKCSB: Year 2
Previous
Next
What are the various roles and responsibilities of the council members?
All council members will be part of the Executive Committee (EXCO). The positions available are President, Vice-President, Honorary General Secretary, Honorary Finance Secretary, Marketing Director, Events Director, and Logistics Director. We will release a slides deck with more information closer to the recruitment date!
What are the events that SCD organizes?
We organize around six events during our term. Our events aim to promote CIRCLE values to the student body through engaging and meaningful events. For example, we launched 'Teamwork Thursday' around White Valentine's Day, to promote collegiality, one of SMU's CIRCLE values. We designed jigsaw puzzles for students to solve with their friends within a time limit. Central to this event was exemplifying the importance of companionship, cooperation & collegiality.
Ultimately, each Council has the flexibility to plan, initiate and execute every event.
Can I join other CCAs in the meantime?
We highly encourage you to build up your own SMU experiences through other CCAs. However, given that each member holds an EXCO position in SCD, you may not sign up for EXCO positions in other CCAs. Failing which, the club, through the EXCO and Senior Counsel, with the concurrence of the Club Advisor, may choose to remove you from the club.
What are the Graduate Learning Outcomes (GLOs) I will achieve in SCD?
You will have ample opportunities to develop your intellectual and creative skills, personal mastery, interpersonal skills, and global citizenship.
In a term, SCD organizes 6 events over 2 semesters. Planning for each event provides opportunities for students to develop their creative thinking. Each event presents unique challenges that require critical and innovative thinking to solve.
SCD is home to self-driven and resilient leaders, where personal mastery is developed. Leaders must work competently and be positive, especially in times of hardship.
As a small team of EXCOs, collaboration and teamwork are essential in SCD. Communication skills will be sharpened when liaising with various internal and external stakeholders during their terms. Verbal and written communication is vital, especially when handling sensitive and important matters.
As part of SMU's CIRCLE values, responsibility is central to most events. SCD produces global citizens who uphold high standards of ethics and social responsibility. The importance of ethics and social responsibility is underscored in competitive events held by SCD, such as the annual event in partnership with SMU Libraries, where we maintain ethical and fair judging.
 
Further Questions?
You may reach out to us via Instagram @SMUSCD or Telegram @littlewhiteshark (President, Amanda) and @beccaaaaaa_a (Vice-President, Rebecca).
Continue your journey here...