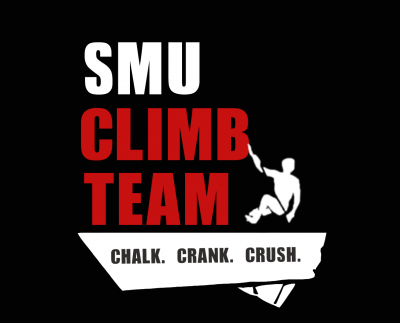 SMU Climb Team

ABOUT US
SMU Climb Team is focused on the creation of a climbing sporting culture. The team also focuses on promoting climb to all students regardless of experience level and encourages everyone regardless of skill or strength to join our vibrant community
Expect a training programme, a close knit community, excellent welfare and discounts at several major climbing gyms which is a universal benefit for all members.
KEY EVENTS
Gravical
Singapore's premier climbing competition as well as SMU's annual climbing competition.
Clamp
Annual SMU Climbing Camp which encourages and helps members get to know each other.
SNCS certification
Level 1 and 2 certification for members at a discounted rate.
OUR TRAINING
COMPETITIVE
Day
Mondays
Thursdays
Time
7:30 pm to 9:30 pm
Venue
boruda Climbing Gym
RECREATIONAL
Day
Wednesdays
Fridays
Time
7:30 pm to 9:30 pm
4:00 pm to 6:00 pm
Venue
TBC
OUR ACCOMPLISHMENTS
1) Gravical 2023
Isaac Yang - 3rd in Inter Men
Chang Ping Shuen - 8th in Novice Men
Fiona Tan - 5th in Novice Women
2) Inter Varsity Boulder League
SMU - 2nd in Overall School
Iris Lee - 3rd in Varsity Women Combined
3) Boulderactive 2022
Ann Neo - 1st in Novice Women
Luke Pung - 8th in Inter Men
4) Transend 2022
Isaac Yang - 5th in Inter Men
Luke Pung - 6th in Novice Men
5) Gravical 2022
Asher Gavin - 1st in Open Men
Ambrose Wang - 10th in Novice Men
6) SMU Gravical 2020
Asher Gavin - 1st in Open Men
Vanessa Teng - 3rd in Open Women
HOW DO I JOIN THE CLUB?
SMU Climb Recreational team is open to all. Only the competitive team will have selections.
"I have absolutely no regrets joining SMU Climb Team- it is definitely one of the highlights of my university life. It has let me pick up a new sport and let me join a community of supportive and loving people, that I can see myself being friends with beyond university."
- Ashley Chin, Vice-president, YPHSOL, Year 2
"Honestly my first year in SMU was not what i expected. With COVID restrictions, online classes and random circuit breakers, I am super grateful to be able to be a part of SMU climb team, where I've made amazing friends and have spent most of my free time. A lot of people worry that climb is something that you need to be strong to get in to, but that's really not the case! climbing is 30% strength and 70% technique, and once you do start, its pretty addictive!! Just come and try it out and we will show y'all how it works 🙂 the climber community is the most friendly one out there."
- Ethan Lie, Recreational Team Captain, SOB/SOE, Year 1
Is climbing all about strength?
Absolutely not, climbing is actually a really easy sport for people of all strength levels to get into. Leg and Core strength are just as important as upper body strength as well!
What types of climbing are there?
There are three types of climbing! Bouldering, speed and lead! Bouldering uses a short wall which does not require any safety gear! Lead requires safety gear and is often the most scary but most exciting! Speed is all about racing up the wall!
Do we do outdoor climbs?
Currently, we do not do outdoor climbs. However, our exco is able to provide guidance if you would like to give it a try!
How is the community?
The community is tight across the levels! We have plenty of bonding activities, camps and training sessions for all the batches to meet and interact.
Continue your journey here...