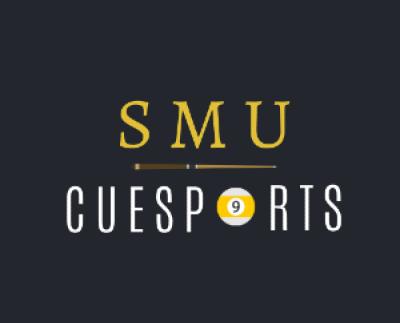 SMU Cuesports

ABOUT US
Aim, Position, Stroke. SMU Cuesports specialises in American Pool games: 8-ball, 9-ball and other common variants. We aim to promote the sport to the SMU community and also improve the skills and knowledge of our members in a fun and interesting manner!
Join our family to experience the thrill of intense competition, networking opportunities with professionals who enjoy the sport too, and most importantly endless fun as part of our Cuesports family! (p.s. you can also impress your friends the next time you go out for a game of Pool)
New to the sport? Can't seem to shoot straight? Want to impress your friends? Look no further! Join us and our helpful members and friendly coaches will help you improve your game in no time!
SMU Cuesports! Not just a stroke of luck!
KEY EVENTS
SMU 9-Ball Open
The SMU 9-Ball Open is an annual tournament held to promote the sport within the SMU community. It provides an avenue for our members to pit their skills against other enthusiasts from within and beyond SMU. In addition, SMU 9-Ball also allows you to forge friendships with others who share the same passion for the sport. 
Cuesports Alumni Networking
This event is to allow our alumni members to engage with our current members. This allows our current members to get insights and tips on the sport itself, as well as network with alumni who are already working in the corporate world.
Cross Club Collaboration
This event aims to provide SSU sportsmen ample opportunities to gain valuable exposure to other sports and to foster cohesion amongst SSU sports clubs. By allowing members to participate in training and activities out of their comfort zone, we hope members will learn about the sport and to try it out personally.
OUR TRAINING
| | |
| --- | --- |
| Day | Fridays |
| Time | 5:00 pm to 7:00 pm |
| Venue | Aspire Recreation Centre |
OUR ACCOMPLISHMENTS
Singapore University Games February 2022
Our members Johnathan Lim and Bernice Foo managed to clinch 2nd place and 4th place respectively.

King's Pool Under the C Divisional January 2020
Our member Henry Chung managed to clinch 2nd place.

King's Pool B Divisional January 2020
Our member Clarence Yeo managed to clinch 2nd place.

King's Pool College Challenge Cup 2020 (1st Challenge)
SMU team 3 managed to reach top 16, while SMU team 1 and 2 managed to qualify and reach top 8.

King's Pool B Divisional February 2020
Our member Clarence Yeo managed to clinch 2nd place.
HOW TO JOIN THE CLUB?
Students do not need to audition to join us, we welcome all students who are interested in taking up the sport!
"There is so much to learn in cuesports that many people do not realise! It's a great sport that isn't too physically demanding so everyone can play it!"
- Hui Hon Yu Bryan, School of Computing and Information Systems, Year 3
"The combination of mental and physical aspect of the sport makes it unique and unlike any other sports! I have also found a close-knit group of friends in the CCA that i am grateful for!"
- Tan Xian Xun, School of Business Year 3
Do I need to have prior experience to join?
No, we welcome members with all levels of experience. We have a professional coach to help with players with various skill levels. The friendly members will always be willing to help too.
Do I need to buy my personal equipment, are they expensive?
There is no formal requirement for members to get their own equipment as it is available at the pool hall. However, we encourage members to get their own equipment, as it would aid in improving their skill levels in the long run. Special prices are available for members when they purchase with our coach.
How much does each training cost?
$5-8/training. However, it is dependent on the attendance of each session. Special rebates will also be given according to attendance.
Continue your journey here...