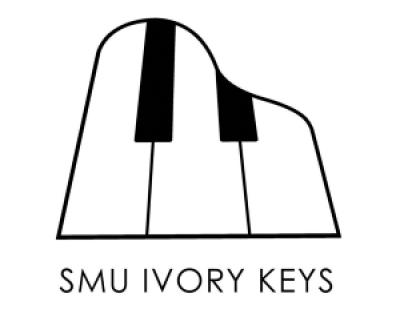 SMU Ivory Keys

ABOUT US
SMU Ivory Keys is SMU's very own piano ensemble club that unites students from diverse backgrounds who share a passion for music, regardless of genre. We play solos, accompaniment, 4-hand duets, trios, concertos and more! Founded in 2007, we aim to provide our members with a platform to refine their skills, enhance their showmanship and promote a greater appreciation for piano music within the SMU community.
We organise and participate in piano concerts for the SMU community and beyond. For instance, in 2019, we participated in the bicentennial edition of iLight Singapore, themed Keys of Light. In 2022, we held our first physical production since the pandemic, themed "A New Start".
Even post-COVID, we are still active in the online space, uploading a brand new piano performance on our YouTube channel every Saturday at 6pm. We also collaborate with other music clubs and instruments, such as SMU Guitarissimo on Patron's Day 2022, and SMU Symphonia and SMU Chinese Orchestra in 2023.
The club's current coach is Ms Yeong Lan-Ing, a part-time lecturer with the National Institute of Education/Nanyang Technological University (NTU), an instrumental tutor at German European School Singapore and the piano ensemble instructor for NTU, Raffles Institution (Junior College), SMU, and Singapore Polytechnic.
KEY EVENTS
Annual production: Klaviesta
Held at the Esplanade Recital Studio every year in October!
Monthly recitals (BS/ACC)
Performance opportunities in the ACC and BS are available to members at least once every month! Moreover, every performance will be video-recorded and uploaded to our YouTube channel for your viewing and sharing pleasure!
Studio recordings (BS/ACC)
Want to play the piano for friends but get stage fright? No sweat! Members may build their performing confidence by requesting for a studio recording! Just like live performances, your piece will be video-recorded for our YouTube channel.
OUR TRAINING
| | |
| --- | --- |
| Day | Fridays |
| Time | 3:30pm to 5:30pm |
| Venue | Basement Studio (LKCSB) |
OUR ACCOMPLISHMENTS
University Student Life Awards 2023
SMU Excellence in Student Life Bronze Award (Club) - Arts Small Group

Participated in SMU Arts Fest 2022 - Lost n Found re:play

University Student Life Awards 2021
SMU Excellence in Student Life Bronze Award (Club) - Arts Small Group
HOW TO JOIN THE CLUB? 
Students do not need to audition/ interview to join the club. However, all new members will need to pay a one-time membership fee of S$10. Separate auditions may also be required for certain showcases, school-wide events and competitions.
"To perform!"
- Joshua Tan, Year 4
"I signed up for Ivory Keys as I really like to play the piano and I wanted to try ensemble-playing!"
 - Shirley, Year 2
"I really enjoy playing the piano as a form of expression and relaxation. I feel like this would be a good opportunity to brush up on my skills and find encouragement to play more frequently."
Denissia Delangle Li Xia
SOSS: Year 1
"I have been playing the piano since the age of three, and it is something that I enjoy doing. I hope that by joining SMU Ivory Keys, I will be able to broaden my learning in the piano and to improve my skills and techniques to be a better pianist:))"
Rochelle Lee Xing
SOA: Year 1
Previous
Next
Do I need a music background to join?
Nope! It's okay if you don't have any music background, let alone paper qualifications. We welcome anyone with a love for music, the willingness to practise and learn, and the desire to express yourself through the piano!
What if I need help or am not that good?
Don't worry as our coach and club exco will help you out, especially if you are preparing for showcases and competitions! When our coach isn't available during training time, the exco conducts a workshop series called "The Basics" that serves as a revision of essential piano technique and music theory! Those who desire more targeted guidance may also join our buddy mentor programme, where you will be mentored by a more experienced fellow member.
What piano facilities do SMU Ivory Keys members have access to, and where are they located?
There are three upright pianos in the Basement Studio (BS) at LKCSB and one baby grand piano in the Arts & Culture Centre (ACC) at SOE/SCIS2. The BS is our usual facility for training, studio recordings and small recitals, while the ACC is normally used for medium-scale performances and preparing our members for large-scale events like our annual production. When not in use for any of these, members may book the facilities for self-practice as and when they are allocated to our club.
What is the commitment level like? Is training compulsory?
Other than your very first session as a member, attendance in training and practice sessions is optional, though encouraged, so as to build your musicianship, proficiency in the piano and performing confidence. Due to the nature of the instrument, showcases and activities are also evenly spread out throughout the year for members to freely sign up for.
Continue your journey here...