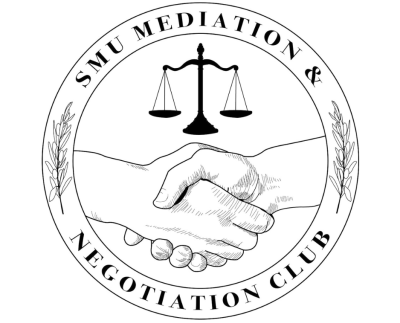 SMU Mediation and Negotiation Club (SMNC)

ABOUT US
Our club raises awareness and encourages the practice of amicable conflict resolution, specifically, mediation and negotiation! We organise events such as Why mediation talks (Events), training workshops to teach students how to mediate (PD), get to sort cases and when cases arise, arrange for and sit in on a mediation (MC)! Besides, we also have HGS, Finance, PR and Marketing to ensure an efficient organisation.
KEY EVENTS
SMU Mediation & Advocacy Competition (SMAC)
Our annual beginner-friendly mediation & negotiation competition that allows any student interested to enter the mediation scene to have a manageable platform to do so!
SMNC Orientation
Our club orientation is held every year, and is a great opportunity to meet new friends and learn more about us.
Mediation Week
A week-long initiative by the club filled with mediation-related talks, workshops, and merchandise!
Talks by Professional Mediators and Professors
On an ad-hoc basis, we do organise such talks/webinars related to mediation and negotiation.
OUR ACCOMPLISHMENTS
Check out our impressive ADR track record here. SMU Teams have done well, and have even gone overseas to India, Vienna, and more, to compete!
https://law.smu.edu.sg/student-activities/adr-competitions
HOW TO JOIN THE CLUB?
Join our telegram channel for more updates!
Are you only open to law students?
Not at all! Mediation, while used primarily in the legal industry, is actually a practise that many non-legally trained individuals are proficient and certified in. Do join us to know more about mediation as a career path!
Continue your journey here...