Certain photos and images featured in the following video were taken pre-COVID19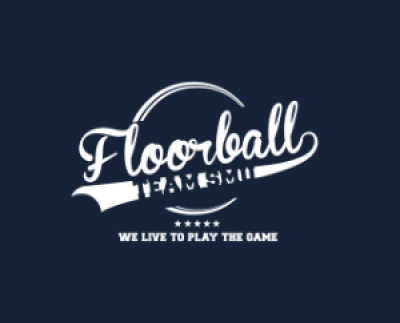 Certain photos and images featured in the following video were taken pre-COVID19
SMU Floorball
ABOUT US
Apart from being a fun and dynamic sport, SMU Floorball emphasises on building a team that its members are proud to be a part of. We want our members to not only strive for excellence in the sport, but to also have a community that they enjoy being in and love.
SMU Floorball seeks to offer you an environment to play the sport you love, with the people you love, in a community that embraces and challenges you as an athlete as well as a team member. 
KEY EVENTS
Salibandy
Salibandy is a 3v3 floorball competition open to all SMU Undergraduates, allowing participants to form teams of 5 to compete for the championship title. This event has been met with overwhelming response over the years as it allows everyone, professional or not, a chance to experience this increasingly popular sport while having fun with their friends.
Xposure
Floorball Xposure is an initiation programme to expose freshies to the SMU Floorball culture. It is open to all SMU freshies who are interested in floorball. Floorball Xposure seeks to welcome all participants to the SMU Floorball Family through fun game stations and floorball hitarounds.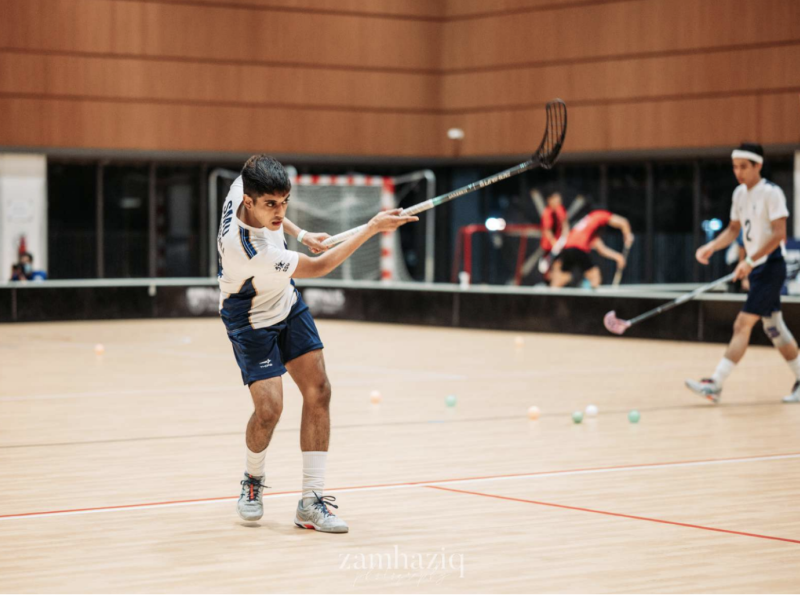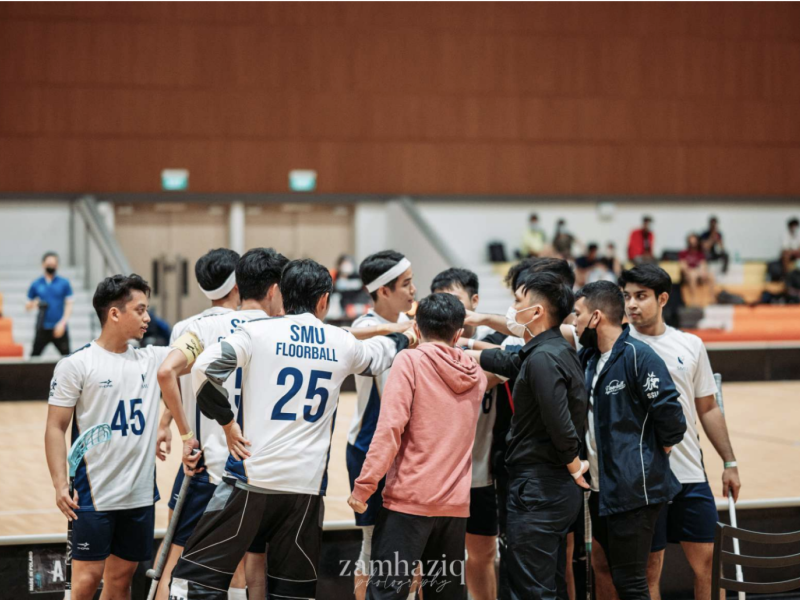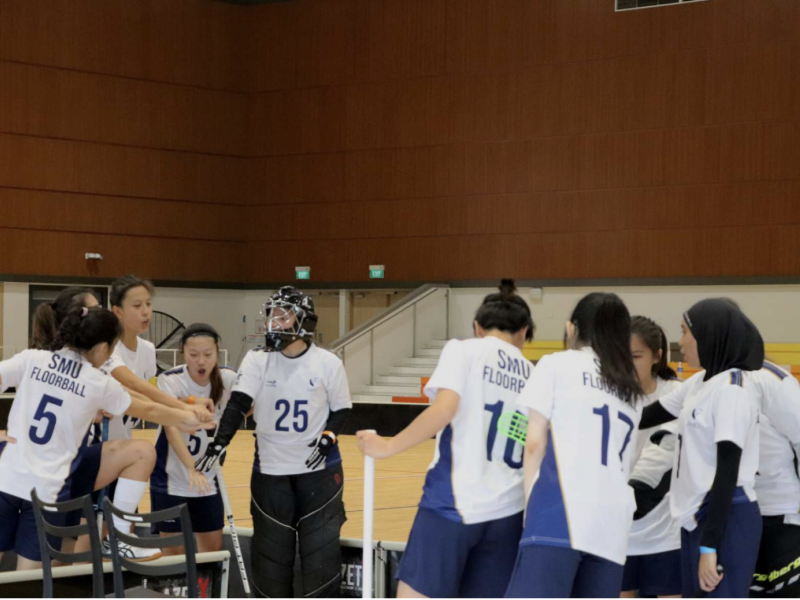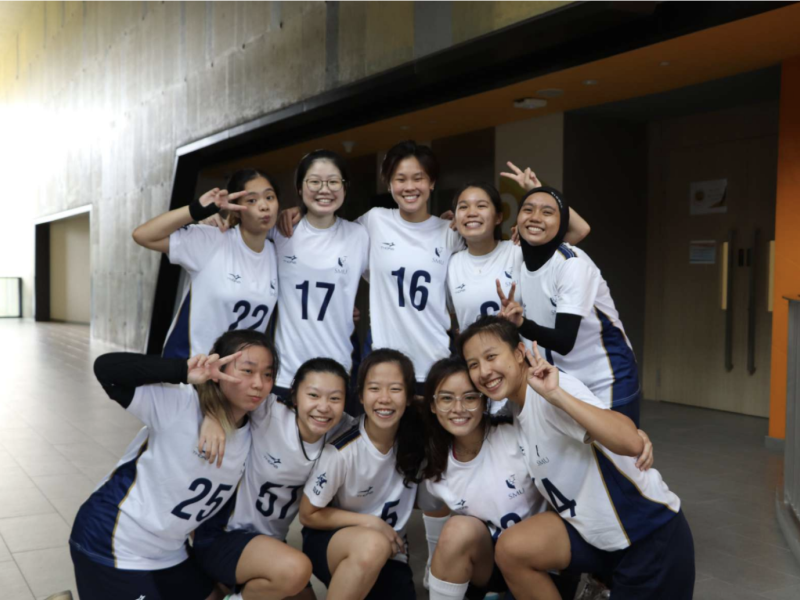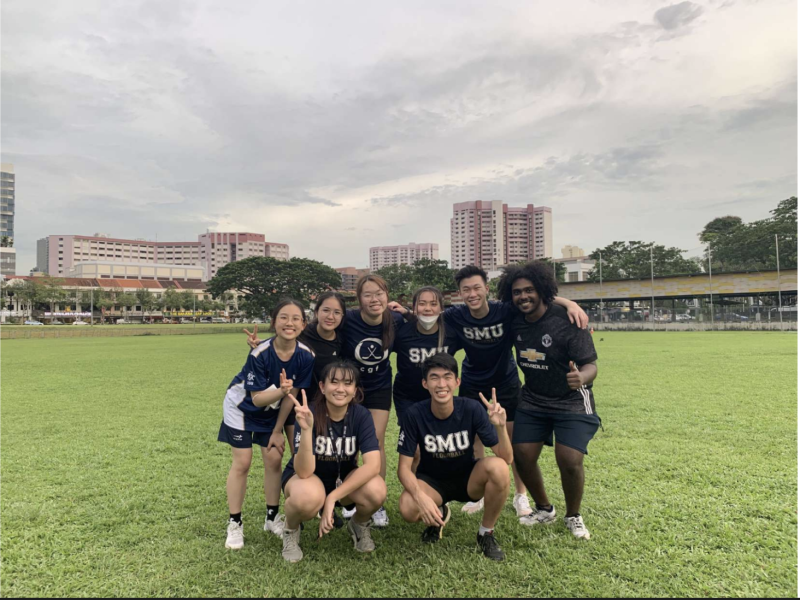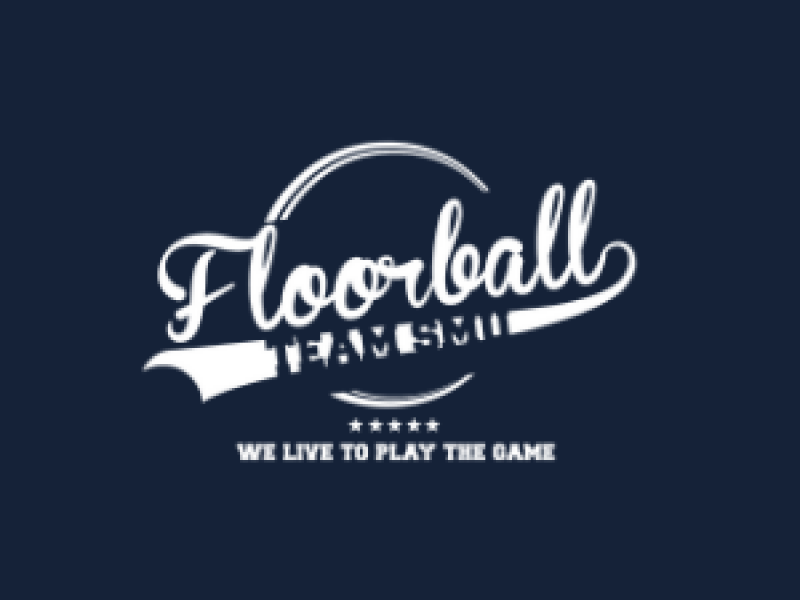 OUR TRAINING
MEN
Day

Mondays
Saturdays
Time
7:00 pm to 9:00 pm
4.30 pm to 6.30 pm
Location
SMU Multi-Purpose Sports Hall (MPSH)
WOMEN
Day
Tuesdays
Sundays
Time
8:30 pm to 10:30 pm

9:00 am to 11:00 am

Location
SMU Multi-Purpose Sports Hall (MPSH)
OUR ACCOMPLISHMENTS
2022 Singapore University Games (SUniG)
Men's team: 1st
2020 Institute-Varsity-Polytechnic Games (IVP)
Men's team: 4th
2019 Singapore University Games (SUniG)
Men's team: 2nd
Women's team: 4th
2018 Singapore University Games (SUniG)
Men's team: 2nd
Women's team: 2nd
DO I NEED TO AUDITION TO GET INTO THE CLUB? 
No. The club is open to all who would like to play Floorball regardless of experience. We also have recreational sessions for members who may not want to participate competitively.
"SMU Floorball has created opportunities for me to grow as a person on and off court. I had the opportunity to lead in the CCA and work with new people. Our coach not only encourages us on court but also guides us in setting personal goals. It has been an enriching experience for me to grow mentally and physically."
- Celine Low, Vice-President, Year 3 Economics
"Joining SMU Floorball was one of the best decisions I made in university. Even though it has only been a year, the friends I made, and the training we had together were highlights of my university life. Trainings took the stress away from school and the people brought happiness to me."
- Jerad Woon, Member, Year 2 Accountancy
Who conducts regular training for the club?
Syazni Ramlee (Mens)
Instagram: https://www.instagram.com/syaznisas/
Email: Syaznisas25@gmail.com

Syazni is a full-time Floorball coach and a national athlete. His passion has always been to play the sport at the highest level. As a coach, he strongly believes in nurturing and developing players to achieve their floorball dreams while finding joy in playing the game. Besides being focused on hard training sessions, he believes in incorporating fun in developing essential technical skills and self-motivation of a team. When the factors of skills, effort, teamwork, passion and fun come together, success can be achieved! With more than a decade of experience playing at the Singapore Men's Premier Floorball League and representing Singapore in numerous international competitions like Asia Pacific and the World Championships, his valuable experience will serve as a strong role model for young players to emulate. His previous records in developing players to succeed both individually and as a team are evident. He focuses on developing healthy gameplay with my players imparting game sense, understanding and bonding. His players are known to love Floorball, showing both commitment and passion towards the sport.

Benjamin Teo (Womens)
Instagram: https://www.instagram.com/justbenjyy
Email: bensleathercrafts@outlook.sg

"Hustle, Hustle & Hustle"- is the coaching philosophy that Benjamin's trainings are centered around. He has been in the floorball scene since 2011 and has been playing at the highest competitive level in Singapore for 7 years and counting. Just last year in 2019 POLITE, his Temasek Polytechnic girls team, brought home the gold medal.
What is the training commitment like?
We train twice a week during off season, thrice a week during season and pre-season. We also take a break from training after the season and for us to prepare for final exams.
How big is the team?
For competitions, we are allowed to register 23 players each for both Mens and Ladies, inclusive of goalkeepers. However, we do have recreational members who are more than welcome to join our trainings(:
Can I still join the club without prior experience?
Yes! We have recreational floorball sessions every Sunday morning, specially catered to freshies who are interested in picking up a new sport. An EXCO member will be present to show you the ropes. Do keep a lookout on our social media pages and your emails for our floorball clinics as well!
Continue your investigation here...