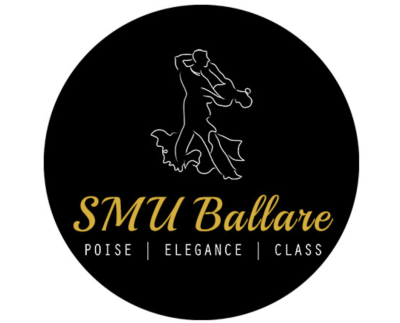 SMU Ballare

ABOUT US
SMU Ballare is a prominent standard ballroom dance club in Singapore. Established in 2008, the club performs and competes in 5 genres of dance: Waltz, Tango, Viennese Waltz, Slow Foxtrot and Quickstep. SMU Ballare has since won accolades in numerous notable local and international Dancesport competitions.
KEY EVENTS
Competitions
Annual productions - Nocturne and Glamour
Platform for our dancers to showcase their talents.
Cohesions during festive periods
Ballaroween (Halloween event), Chinese New Year dinner, Valentine's Day Workshops and many more.
OUR TRAINING
BEGINNER CLASS
| | | |
| --- | --- | --- |
| Day | Fridays | Saturdays |
| Time | 4:00 pm to 6:00 pm | 2:20 pm to 4:00 pm (To be confirmed) |
| Venue | ACC | Melvyn Low Dance Studio |
SENIOR CLASS (BY LEVEL)
 
Novice & Pre-Amateur
Pre Novice
Day
Saturdays
Time

11:00 am to 12:40 pm

(To be confirmed)

12:40 pm to 2:20 pm

(To be confirmed)

Venue
Melvyn Low Dance Studio
OUR ACCOMPLISHMENTS 
Klang Open International Ballroom Dance Competition 2023
4 Gold, 1 Silver, 2 Bronze
4th Singapore Dancesport Organisation Championship 2020
4 Gold, 4 Silver, 7 Bronze
4th Brillante International Dancesport Championship 2019
2 Gold, 3 Silver, 4 Bronze
9th TDA Championship featuring Inter-tertiary Dancesport Championship 2019
15 Gold, 8 Silver, 13 Bronze
Danspiration International Championship 2019
4 Gold, 1 Silver, 2 Bronze
Perak International Dancesport Championship 2019
2 Gold, 3 Silver, 1 Bronze
3rd Singapore Dancesport Organisation Championship 2019
7 Gold, 4 Silver, 6 Bronze
Thailand Dramatic Festival 2018
2 Gold, 1 Silver
4th DanceMaxx International Dancesport Championship 2018
2 Gold, 5 Silver, 4 Bronze
Danspiration International Championship 2018
5 Gold, 5 Silver, 3 Bronze
8th TDA Dancesport Championships
6 Gold, 9 Silver, 8 Silver
2nd  Singapore Dancesport Organisation Championship 2018
5 Gold, 4 Silver, 4 Bronze
SMU Excellence in student life award (Clubs) 2018
How to join the club?
No audition is required for SMU Ballare. Dancing is like walking. People always walk, right? If you are able to walk, you are able to dance too! SMU Ballare strongly believes that everyone can dance.
"Simply because this type of dance is not commonly seen nowadays. I wanted to learn something that is uncommon."
- Mah Min Hui, Joyce, School of Accountancy, Year 2
"To learn a new skill." 
- Sun Ming, School of Computing and Information Systems, Year 3
Do I need to have any dance experience?
There is no need to have any prior dance experience and we do not conduct auditions. In fact, most of our members did not have any dance experience upon joining us! Our mission is to make ballroom a part of everyone's life, and we believe that anyone can enjoy ballroom dancing.
Do I need to join with a partner?
No, everyone will get an equal opportunity to pair up with a dance partner. At beginners level, we encourage our dancers to dance with all available partners. Our instructor will advise on your partnership but fret not as your opinions will be taken into consideration when we assign the partnerships.
Who conducts the training?
Our students at advanced levels conduct the Friday training for the beginner batch. In addition, our dance instructor, Melyvn Low, 15th time undefeated South East Asian Champion, conducts Saturday training for all levels.
What is the attire?
T-shirt with long pants. You will eventually get to own proper dance apparel and ballroom shoes at a highly subsidised price! You get to wear beautiful ball gowns (girls) and tailcoats (guys) for our competitions and performances.
What will you gain from joining us?
Ballroom dancing experience
A unique and fun experience in learning a dance that's rarely offered elsewhere! 
Competition
Other than learning how to dance, you also get the chance to compete locally and internationally, as we have multiple competitions throughout the year. 
Production
You can partake in our annual productions as well, where you can take on secondary roles from event planning, choreography, operations to marketing. We welcome everyone into our SMU Ballare family c:
Continue your journey here...