Governance, Registered and Independents Clubs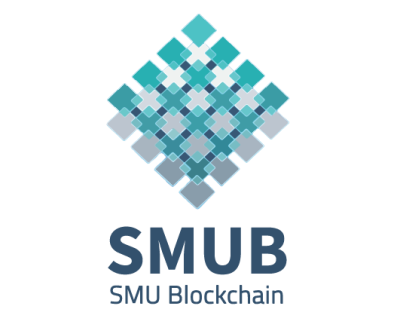 SMU Blockchain Club

ABOUT US 
SMU Blockchain Club was founded in 2018 with the emphasis on making blockchain easily understandable and accessible to SMU students. We strive to provide any university student a welcoming community for quality and accessible blockchain education, and our ultimate goal is to nurture our club members as outstanding talent in contributing back to the blockchain ecosystem worldwide.
We conduct regularly events with prominent blockchain companies in Singapore, nurture blockchain developers through our SMUB Developer Department, and create high-quality investment analyst reports through our SMUB Research Department.
What can an SMU Blockchain membership offer you?
A free t-shirt with every membership sign-up, and free welfare drives!
Exclusive benefits via SMUB's industry partners, such as free exclusive merch during events and access to co-working spaces!
Closed-door events with our extensive network of blockchain companies to give candid insight and conversations into the blockchain space directly with founders and partners!
Direct links to internship and job opportunities in the blockchain industry through our contacts!
Still not convinced? Join our introductory workshop during Vivace to learn more!
KEY EVENTS
'Blocknight'
SMU Blockchain will host our annual flagship networking event 'Blocknight' on 24th August, bringing founders, venture partners and industry partners and students together to celebrate SMU Blockchain and the blockchain space.
Previous Events:

Worked with Scroll as their first ever student technical workshop engagement in Singapore.
Worked with Spartan Group to conduct a 'Meet-The-Students' event with over 80 student attendees and direct internship opportunities.
Worked with SMU SCIS & IIE Faculty to conduct Chainlink's first student-led 2-day developer bootcamp with over 100 attendees.
OUR TRAININGS 
SMU Blockchain Club does not require compulsory attendance and the events we hold will always be open to the public to attend as we are passionate about spreading blockchain education to anyone interested.
If you are looking for something more:
For any aspiring research analysts, our SMU Blockchain Research Department will train you to write high quality reports on the blockchain space with a comprehensive curriculum. Our team was started by SMIF members who were interested in to do blockchain investment research, and comprise of students previously from Spartan Group, Octava & Temasek.
For any aspiring developers, our SMU Blockchain Developer Department will get you started in your web developer journey with a flexible self-directed curriculum. Our competitive department accepts up to 25 developers per year, with our curriculum starting at May.
OUR ACCOMPLISHMENTS
2020 - Founding Opennodes University Chapter (Digital Consulting)
2020 - Partnership with BNP Paribas to build out SMU's Digital Innovation framework
2020 - Participated as part of a Cross-University team at Govtech's COVID-19 Idea Sprint hackathon (utilising Decentralised Identifiers on Blockchain technology to improve contact tracing)
2022 - Founded Students-In-Blockchain (SIB) initiative to bring together NUS, NTU, SMU & SUTD blockchain clubs together. 
2023 - SMUB Research teams won 1st and 2nd place for an investment analyst competition held by Arbela.
HOW TO JOIN THE CLUB? 
Our exco team are incredibly driven and always at the forefront of blockchain developments in the student blockchain ecosystem.
Exco recruitments will be done in October, and will be prioritizing SMUB members who have actively participated and contributed to the SMU Blockchain community.
"SMUB had an amazing diversity of members, from Software Engineers to HR, from Marketing to Trading. More than just Blockchain, we rubbed unique insights off each other across all topics, which allowed us to forge unprecedented career and life paths."
Jorden Seet
LKCSB: Year 4
"Being in SMU Blockchain Club opened my eyes up to the many opportunities that are available in the blockchain and fintech space. I'm definitely looking forward to working in this space as the people it attracts are so innovative and full of energy. It's an industry like no other."
 Kenny Kwek
SIS: Year 4
Previous
Next
"Alongside decentralised applications, I believe blockchain and cryptocurrency will disrupt the financial sector, supply chain and real estate market. I believe joining SMU Blockchain Club is the right step forward for me to grow as a person and learn even more about blockchain and cryptocurrency as a whole, alongside likeminded individuals."
- Kaydon Lim Jun Long, School of Computing and Information Systems, Year 1
"I think SMUB will provide me with plenty of networking opportunities and understanding different companies. These opportunities can prepare me for the future when considering my internships and career choices."
- Cheryl Yeo Xue Ting, School of Business, Year 1
I don't know anything about blockchain, can I still join?
Yes! We will provide the necessary training to equip you with the fundamental knowledge and certification necessary to succeed. Do not be afraid to attend our networking sessions too! You can also join our telegram group @smublockchainclub to interact with us and keep up with our events!
Continue your journey here...