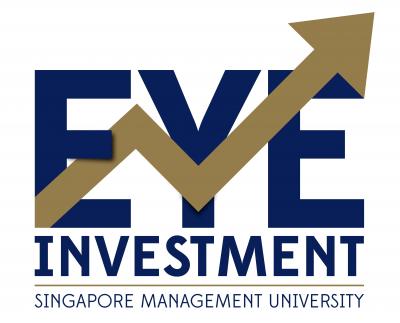 SMU EYE Investment

ABOUT US
Founded in 2002, EYE Investment Club is SMU's largest official finance club committed to connecting you to the world of finance.
Comprising over 1600 members and an alumni network spanning across 18 years, our club is established on a robust foothold with a richly diverse community made up of individuals from varying academic backgrounds and levels of experience.
We hold weekly general meetings and other networking and industry events throughout the year. Here at EYE, we value our 'family' culture, making us a club that is both fun and enriching. That is why we have very committed alumni who always come back to mentor us and share about their experiences both in school and at their various jobs, giving us advice on how to grow and learn about investing more effectively.
In addition to our long list of investment knowledge building and networking events that will help you gain more real-world exposure to investing and finance, our main highlights are the Investment Symposium and the Asian Investment Immersion Programme (AIIP). 
We offer two programmes - namely the general member programme and the analyst programme. To find out more, please check out our website, various social media links, and the FAQs.
KEY EVENTS
Investment Symposium
Investment Symposium is one of EYE Investment Club's annual flagship events, where we invite esteemed professionals from the finance industry to share their experiences and perspectives on various investment topics to enable our members to gain valuable insights.
Asian Investment Immersion Programme (AIIP)
The Annual Asian Investment Immersion Programme (AIIP) is our flagship winter event for members to visit various financial institutions overseas to gain a better understanding of global financial markets. This also gives our members the opportunity to learn from and interact with industry professionals. 
Corporate Visits
Through our Corporate Visits, we aim to provide our members with hands-on opportunities for learning through exposure to diverse working methods, various office environments, as well as to network with industry experts from the various sectors in the finance industry. 
Yearly Women in Finance Talk
The Women in Finance Talk is another one of EYE Investment Club's annual flagship events, where we feature successful women to share about how they are making an impact and challenging stereotypical mindsets about female leaders in the finance industry.
OUR TRAINING
Day
Fridays
Time
General meetings: 4:00 pm to 5:30 pm
Analyst meetings: 6:00 pm to 8:00 pm
Venue
Lee Kong Chian School of Business Seminar Rooms
OUR ACCOMPLISHMENTS
SMU Excellence in Student Life Award (Club) 2023
Gold Award

SMU Excellence in Student Life Award (Club) 2022
Silver Award

SMU Excellence in Student Life Award (Club) 2021
Silver Award

SMU Excellence in Student Life Award (Club) 2019 
Special Interest - Lee Kong Chian School of Business, SMU

Official Finance Major Club
HOW TO JOIN THE CLUB? 
For the Analyst Programme, candidates will have to submit a deliverable and attend a session with the EXCO members to present your deliverable and go through an interview. 
"EYE has given my first year a mind and heart– what seemed like the worst year to enter university was turned into a memorable experience of learning and friendship. This is where my expectations for financial knowledge were far exceeded, where the friendships I gained leave nothing to be desired."
- Foo Yong Li, School of Accountancy & School of Business, Year 2
"My past year in EYE has been fruitful and enriching, as I not only gained insights into the Forex market and various financial sectors, but also met many like-minded individuals. The pitches over the semester also allowed me to learn beyond pure content, and the feedback really helped me improve!"
- Liu Hongying, School of Business & School of Computing and Information Systems, Year 2
"I am interested in joining EYE Investment as I am very keen in learning more about the 3 asset classes, all of which are relevant to the industry I am looking to enter once I graduate from University. Furthermore, I feel that the club is a great platform for me to be able to meet like-minded peers who share the same goal and passion for finance and are looking to work in the industry in the future as well. Networking sessions with alumni from the various industries are also a great opportunity for me to learn more about the workforce culture and be better prepared for what's to come after graduation, and finally I am keen to attend the weekly/monthly general meetings to learn from fellow students and to make new friends as well!"
Ryan John Ang
SOA: Year 1
"Financial markets are near about our best way to evaluate and reward/punish businesses. As an Economics student, they're conceptually very intriguing. Not to mention, they help us evaluate many economic theories ranging from perfect competition and information to stakeholder v/s shareholder capitalism which would be comparatively strenuous in commodity markets. That's why I am drawn to the analytical and evaluative skills that go into learning finance."
Bharat Gangwani
SOE: Year 1
"I was from a non-finance/ accounting background in poly and had gradually shifted my interest to finance over time. I am deeply intrigued by investment and determined to join an investment related CCA in SMU. Amongst the different finance and investment CCAs that SMU offers, EYE Investment stood out to me. I am interested in the vast opportunities that it provides to its members and wish to be a part of it!
Genevieve Chua Shu Qi
LKCSB: Year 1
"Although my primary degree is from SIS, I have a passion for finance. I have been learning about investments (various products, valuation methods) since I was in NS. I would like to engage with like-minded individuals and further my knowledge by joining this CCA. I also hope to relearn things I might have learn wrongly along the way and also improve my own investment portfolio."
Hein Htet Oo
SIS: Year 1
"Back in secondary school and JC, I've never really showed any interest in educational clubs. However, I now am starting to become more interested in the finance industry and even economics after JC! Though I am not in Business nor in Economics, I really want to try to step out of my comfort zone, to explore this new interest. Additionally, being able to meet like-minded people who express the same passion would definitely nurture me further. I would consider myself to be more wary and afraid of public speaking, and I believe that through the practices and the exposure in EYE, I would be able to push myself. I do foresee myself learning to be more empathetic and critical, and in terms of thinking in the POVs of the various stakeholders."
Gwendolyn Ser Xin Jie
SOA: Year 1
"Picking up investing is on your own is an extremely daunting task and the potential to have some form of mentorship in EYE investment club is something that attracted me to apply to join to the club. I would say I have very basic knowledge in the field of finance and joining EYE investment club would provide me with an avenue to allow me to learn from my experienced seniors as well as meet people who have similar interests as me."
Marcel Lim Xuan
LKCSB: Year 1
"I enjoy learning new things and having been exposed to my mom's occasional rants about finance and stock markets has gradually made me gain an interest in finance as well. I'm looking to take on a second major in finance so I feel joining EYE Investment would allow me to gain a deeper understanding and more opportunities to gain insights from fellow like-minded people. "
Kaelynn Soh Hwee Minh
SIS: Year 1
"I have always been inclined and intrigued by the finance world and I feel like joining this CCA will provide me with the right exposure to it. I believe that I would be able gain heaps of knowledge about investing, which would come in handy in the future. Hence, I would love to be a part of this CCA as an analyst."
Shania Arjan Nanwani
LKCSB: Year 1
"I believe that the CCA presents a unique opportunity for me not only to learn more about investing from peers/seniors/industry professionals, but also doubles as a great platform to meet and connect with like-minded individuals."
Ong LiQun Bryan
LKCSB: Year 1
"I have recently developed an inclination towards Finance. I want to be a member of this club in order to develop my skills with regards to Financial research, modelling, etc. and gain knowledge outside the classroom too. "
Eshan Tapuria
LKCSB: Year 3
Previous
Next
What can I expect from joining EYE?
We offer two programmes - namely the general member programme and the analyst programme. 
As a general member, you will gain access to our teaching materials and weekly meetings. You can also look forward to events such as our #EYEhangout Series - seminars conducted by industry professionals on various topics ranging from personal investing to career direction and industry insights. 
If you're committed to putting in the extra hours, sign up as an analyst and you will receive all the benefits of a General Member and more! As an analyst, you will receive exclusive research decks and gain a deeper understanding in specialized disciplines under the personal guidance of a dedicated research director. Additionally, you will also unlock opportunities to attend alumni networking events and participate in internal stock pitch competitions.
When can I apply?
General Membership is usually open all year round! However, this year, the opening of the General Member sign-ups will coincide with the opening of the Analyst recruitment period. More details will be released closer to the date.
Recruitment for Analysts typically opens in a 2-week window at the start of Semester 1, in late August. We will be posting more details nearer to the date.
How do I sign up?
Fill in the form (found in our emails or website www.smueye.com/join-us and submit a membership fee of $15. Steps will be given in the form!
What is the recruitment process like?
General member: you can become a general member by simply paying a one-time fee of $15.
Analyst: Candidates will have to submit a deliverable and attend a session with Exco members to present your deliverable and go through an interview.
Continue your journey here...