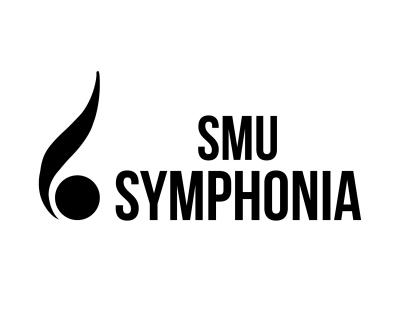 SMU Symphonia

ABOUT US
Established in 2003, SMU Symphonia has grown into a full-fledged wind and strings symphonic group where we engage in various music genres and art forms. They pride themselves as music enthusiasts who strive to emulate the values of Music, Friends, and Fun through our annual productions. They operate under the guidance of their resident conductor, Mr Adrian Chiang.
To date, SMU Symphonia has performed in a wide range of performances ranging from university-wide events such as SMU Annual Arts Festival, SMU Patron's Day, and SMU Open House, to external gigs with various external parties such as NParks. The band performed Photosymphony at the Botanic Gardens in 2019 to monumental success. Their first online production Homebound was a part of SMU Arts Festival 2020, winning People's Choice Award. Meanwhile, Festiva XIV's rehearsals, recordings, and post-productions were carried out completely online, and to date has garnered 2.6k views. SMU Symphonia's SMOOJazz production in Arts Fest 2021 also won Best Marketing and Director's Pick. In 2022, the band made a comeback with a live performance of Festiva XV: Cultural Extravaganza. This year SMU Symphonia celebrates their achievements and milestones in their 20th anniversary in Festiva XVI: Ad Victoriam. They will be having their annual winds concert series in July.
SMU Symphonia has travelled to countries like Australia in 2007 & 2009, and Vienna in 2013 to compete in various international band competitions. In 2018, the club journeyed to Japan to attend the 20th Conference of the Asia Pacific Band Directors' Associations where we performed alongside bands from Korea, Australia, and many more. Aside from that, SMU Symphonia also hosts their own concerts, including their annual concert Festiva, and internal events within SMU, such as Grandioso.
SMU Symphonia's continual pursuit of excellence in music is not confined to concerts and competitions; the club believes in sharing the joy of making music, emulating our values of Music, Friends, and Fun with community performances such as the Commonwealth Science Conference 2017 at Istana, and collaborations with sister universities in Singapore like the SMU x SUTD Alma Mater Strings Concert in 2021. To learn more about them, do visit their instagram page @smusymphonia.
KEY EVENTS
Festiva
Our annual flagship production that takes place near the end of each school year; each production explores different themes (e.g. Cultural Extravaganza in 2022 and Ad Victoriam in 2023) with a variety of band, strings, and orchestra performances.
Grandioso
A series of productions making a comeback in 2022, with the last instalment in 2018. It is a full, winds-only production that showcases the entire strength of the SMU Symphonia Wind Band.
University-wide events
SMU Patron's Day, SMU Open House, SMU Arts Festival, commencement and convocation ceremonies, etc.
Community performances
Commonwealth Science Conference 2017 at the Istana; Collaboration with sister universities in Singapore e.g. 2021 SMU x SUTD Alma Mater Concert.
External gigs/performances
Gigs or performance requests from external vendors for events, such as Christmas performance.
OUR TRAINING
Day
Wednesdays
Fridays
Time
7:30 pm to 9:30 pm
Venue
SMU Arts & Culture Centre (ACC)
OUR ACCOMPLISHMENTS
2023
Festiva XVI: Ad Victoriam
SMU Symphonia celebrated their 20th anniversary with their largest concert to date! Boasting the largest ever group of past and present Symphonians performing on stage together, the concert was lauded by our esteemed guests, SMU's President and Dean of Students, as an extravagant show of what Symphonia is capable of.
2022
Grandioso III: Those Times
The return of SMU Symphonia's flagship wind band series was a success, breaking all previous ticket sales records.
2021
SMU Arts Festival
SMU Symphonia's production SMOOJazz, an online production with alumni and staff guest players, won Best Marketing and Director's Pick.
ASEAN University Network, ASEAN University Network on Culture and the Arts, and the Commission on Higher Education
Awarded the certificate of participation as the Alma Mater concert was used to showcase Singapore's individual culture through an innovative digital performance in the AUN-CA Crosslight Performance Showcase.
2020
SMU Arts Festival
SMU Symphonia's production Homebound won the People's Choice Award
2019
Singapore Botanic Gardens - Photosymphony
Invited to perform as part of the 160th anniversary celebrations.
Esplanade performances
Invited by the Esplanade for their Annual Band Weekend series titled "Cool Classics".
HOW TO JOIN THE CLUB? 
Students do not need to audition/ interview to join the club. We are open to all players regardless of prior musical background! :-)
Is SMU Symphonia an Orchestra?
SMU Symphonia is a wind and strings club. Though we do have orchestral concerts, we also place great emphasis on developing both sides separately so that all sections and members have an opportunity to perform.
How many performances do we have in a year and will everyone be involved in performances?
We have 1 major club production every year, the Festiva series, that usually takes place around February or March. We also have the Grandioso series, a fully wind band production, which is held during summer break! SMU Symphonia ensures that all sections, whether winds or strings, have the opportunity to perform throughout the year. We also take part in various uni-wide events spread across the year, such as Patron's Day, Vivace, and SMU Arts Festival. We definitely encourage all our members to get involved in our performances if possible, to ensure the fullest experience!
What is the commitment level as a SMU Symphonia member?
Other than our regular training sessions on Wednesday and Friday nights, additional sectionals and Saturday sessions may be held closer to concert days. However, rest assured that major performances should end before busy academic periods!
Continue your journey here...