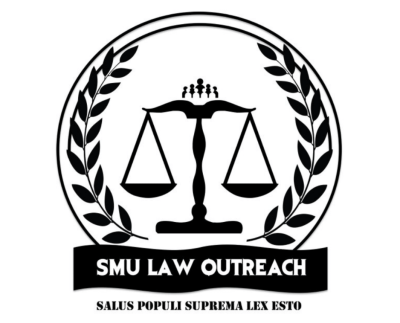 SMU Law Outreach

ABOUT US
As a member of The Bar, SMU School of Law's de facto student body, SMU Law Outreach Club (SLOC) organises pro bono and community service events for law students, faculty and members of the public. SLOC believes that it is our privilege to give back to the community. SLOC actively reaches out to various socio-legal stakeholders to source for community service projects and engage the community in meaningful ways. Beyond that, SLOC hosts dialogues to raise awareness on law-related issues among students and members of the public. As a member of SLOC, you will have the opportunity to lead and initiate such projects, which will further develop SMU Law's student-driven community service culture.
KEY EVENTS
Project iFAMS
Project iFAMS aims to assist parents with children who lack mental capacity in their applications for deputyship under the Mental Capacity Act using the Family Justice Court's iFAMS system. The SMU Pro Bono Clinic liaises with homes for persons with disabilities (eg. SUNDAC, CPAS) for applicants.
Deputyship Project
Deputyship Project is based on a collaboration with the Community Justice Centre (CJC) at the State Courts, which assists caregivers of persons who lack the mental capacity to file deputyship applications by using the new ACDA deputyship system. The Deputyship Project aims to make the application process easier as it may be tedious and families may have difficulties accessing lawyers and legal aid.
The Recourse Initiative
The Recourse Initiative seeks to assist convicts who feel that they have been wrongly convicted of their crimes. The team will discuss the cases with Professors, research on leads (including potentially interviewing the applicant in prison) and write recommendations on how cases should be handled.
Law on Life
Law on Life aims to broaden the perspectives of law students on how the law interacts with our daily lives. The team will plan for dialogue sessions with individuals who have graduated from law school (including seeking approval and liaising with the speakers). The themes can vary, but it centres around post-graduation life, career paths or doing good with a law degree.
Silver Oak Project

Silver Oak Project aims to raise legal awareness among the elderly. The team will research on topics, liaise with external beneficiaries and professors and create materials such as brochures.

Some topics can include (but not limited to):

Wills;
CPF Nominations; and
Lasting Power of Attorney
HOW TO JOIN THE CLUB?
SLOC's recruitment begins in October annually, with members assuming their positions in the following Calendar Year (January to December). An email sign-up link will be sent to all law students when recruitment opens. After the sign-up period ends, we will shortlist applicants from the interested pool and assign them 20 to 30-minute interview slots. Positions available for recruitment include Secretary/Treasurer, Marketing Director, Projects Director and Senior Projects Director. No sign-up fees apply.
Continue your journey here...