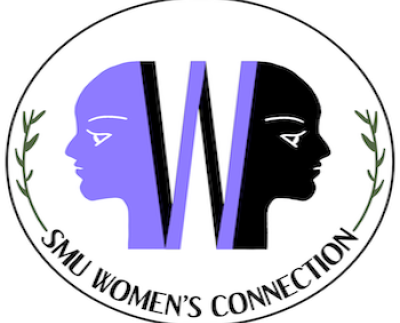 SMU Women's Connection

ABOUT US
SMU Women's Connection strives to bring like-minded, aspiring individuals together for networking and enriching social interactions, to positively impact the community and spread awareness regarding female empowerment.
SWC usually holds monthly gatherings and hosts multiple events each semester, with past events revolving around the themes of fighting sexual harassment, women in career and wellness. These events include networking sessions, talks, a street-play and dialogues centred around gender related issues and equality. Our upcoming event theme will be about deconstructing gender roles and celebrating progress in this area. 
KEY EVENTS
Annual International Women's Day (IWD) Series
Held in March to unite the community in commemorating this occasion.
OUR TRAINING
Monthly Meetings/Events
| | |
| --- | --- |
| Day | Fridays |
| Time | 4:00 pm to 6:00 pm |
| Venue | TBC |
OUR ACCOMPLISHMENTS
'Excellence Club Award' for Year 2020
This was awarded partly for operations, communication, and new initiatives by the club throughout the year.
Donation Drives
SWC has also carried out donation drives and raised funds through our events, working together closely with various organisations/beneficiaries who share the same mission as our club.
HOW TO JOIN THE CLUB? 
Students do not need to audition/ interview to join the club. SWC is a community that welcomes men and women interested in gender equality and those that are looking for a platform to discuss issues and topics related to our club's mandate.
"I have always been keen about equality and women's rights. Also, being a part of Women's Connection would give me the opportunity to reconcile with empowered women and bring our new ideas for an inclusive society."
- Shansa Basnet, School of Business, Year 1
"I believe in female empowerment and I would love to join the women's connection club."
- Rasmiya, School of Economics, Year 1
"This is the first CCA that I wanted to be a part of 100% and not just because there were no other CCAs that suited me. I can't quite describe the joy of working with my team on social issues we are passionate about such as gender, stereotypes and more."

Nicole Tay Mei Yi
LKCSB: Year 2
" This represents a platform to a core issue all women face."

Vishakha Choudhary
LKCSB: Year 2
" I want to be in a community where I can feel comfortable in and that I can get and give support to!"

Belle Kwang
SIS: Year 1
"I am interested in this committee as I resonate with their mission to increase the livelihood of disadvantaged women. I believe that as a privileged female, I can use my resources to help those not born in the same background!!"

Michelle Kamal Mirchandani
LKCSB: Year 2
" I feel that there's a need to address equal opportunity for women and foster friendly relationships, goodwill and understanding amongst women."

Lee Qin Xuan
LKCSB: Year 2
" Would love to be part of women's empowerment :)"

Vanessa Thio
LKCSB: Year 2
" As a woman myself, I believe in empowering fellow women and promoting gender equality. As such, I'm interested in SWC as it caters a platform for students with similar sentiments to gather, share meaningful conversations and educate others! Also, I believe that the values and vision the club strives towards align closely with my own. In addition, I am super passionate about widening my perspectives on all things women/gender related and am excited to do so by attending upcoming events hosted by the club :) "

Vanessa Thio
LKCSB: Year 2
" I've always been passionate about women's rights and female empowerment -- it's one of my pet causes. I hope to bridge the inequalities in this field through my personal contributions, no matter how small."

Liu Enqi
LKCSB: Year 1
" I believe that women's rights are an interest of mine and genuinely want to find out more about what is being done around the world for gender equity to occur. I also want to go against the stigma that only women can support women rights."

Peter Chang
SOSS: Year 1
" Being a woman from a developing country where patriarchy exists, I know a few struggles of being a girl. I have had to unlearn so many behaviours and continue to do so, and I also wish to encourage others to unlearn those behaviours as well. I want to make people aware that the struggles of being a woman should not come from what gender I am. Each and every individual should be allowed to have their own views and narratives. Through this CCA, I hope to continue to do this and help others and myself understand the strength that comes from being a woman. Finally, I hope to encourage others and gain confidence."

Soumya Chander Upadhyay
LKCSB: Year 2
Previous
Next
What does your club do?
SWC is largely an event based CCA that focuses on issues relating to gender equality. We aim to start conversations through meetings, networking sessions, social media discourse, and many more. Our activities are open to students of all genders, so we hope you'll join the conversation!
How can I join SWC?
To be a member of SWC, simply fill up the membership form and join us for any of our events! To retain your membership, just be sure to attend an event every calendar year! Membership Form: https://smu.sg/swcmembership
What does becoming a member entail?
SWC members will be able to join monthly member meetings and given priority invitations to certain events, whereby you can meet a community of like-minded individuals at these events and monthly gatherings. Our Telegram group and Instagram account has regular posts on interesting articles and petitions centred on gender, as well as wellness tips and interesting highlights on female empowerment.
What is the commitment level like?
As mentioned above, just 1 event per calendar year! If you have a deep passion for furthering gender equality and female empowerment, and would like to commit more to this cause look out for our ExCo recruitment in the coming semester!
Continue your journey here...