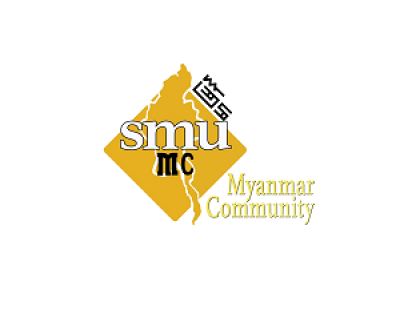 SMU Myanmar Community

ABOUT US 
The SMU Myanmar Community is a welcoming community that acts as the representative body for Burmese students in SMU.
It is the go to place in SMU to learn more about Myanmar, ranging from culture, tourism to even business opportunities there. For Burmese students in SMU, it is a home away from home where they can reconnect to their roots and network. We also welcome non-Burmese students who seek to join a warm, tight-knit community and forge bonds with diverse individuals.
KEY EVENTS
Career networking sessions with SMU Myanmar Community alumni
Culture and travel sharing sessions about Myanmar for interested students
Visits to Peninsula Plaza for food and cultural tours
​​​​​​​
OUR ACCOMPLISHMENTS
Most Culturally Significant Event 2019 awarded by ICON
HOW TO JOIN THE CLUB?
Students do not need to audition to join the club.
"The events and meet ups held by SMU Myanmar Community was the perfect opportunity to make new friends and expand my social circle, everyone there is so welcoming."
- Han Su Sandy, LKCSB, Year 2 
"Having lived in Singapore for a long time, becoming a part of the SMU Myanmar Community gave me a sense of belonging and made me feel truly connected to my home country"
- Kyaw Myo Khant, LKCSB, Year 2 
Are there any commitments to becoming a member?
Not at all, there are no regular or compulsory sessions to attend. We are simply a community that welcomes those who wish to make new friends, connect with Burmese culture and learn more about Myanmar. 
Are there any membership fees?
There is no membership fee to join the club. Mostly, we organise free-of-charge events. However, certain events might charge a highly subsidized, minimal fee.
How do I apply to become an EXCO member?
At the start of semester, an email will be sent out with a link to apply for the positions they desire, after which an interview will be conducted. Do look out for it!
Is SMU Myanmar Community part of ICON?
Yes! ICON is a standing body that oversees SMU Myanmar Community and provides us with the necessary support and representation when required. The president of the Myanmar Community represents us in internal ICON affairs. We are also supported by the SMU Diversity, Inclusion, and Integration (DII) department.
Continue your journey here...