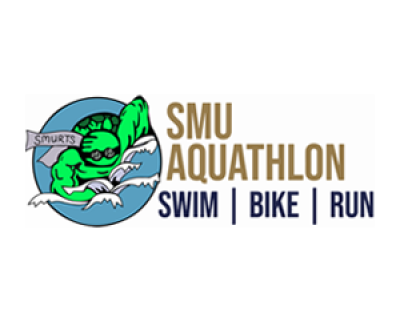 SMU Aquathlon

ABOUT US
SMU Aquathlon is a multisport club that combines both swimming and running into one exciting sport. Races typically take place at beaches whereby participants will swim in the sea before moving to a transition area and finishing with a run. 
Everyone from absolute beginners to seasoned athletes are welcome to train and grow with us. Our training is progressive in nature in which beginners will feel and see improvements in both their swims and runs whilst being challenging even for the most seasoned of athletes. We leave no one behind and we are more than just a club, we are a family.
KEY EVENTS
International Competitions
Trifactor Triathlon
Singapore Aquathlon
MetaSprint
Inter-school Competitions
NTURO
NUS Biathlon
SUniG
Our Own Race
SMU SwimRunSprint
Additional activities our club host
Cross training with other sports CCAs
Alumni networking
Corporate networking
Local/Overseas Training Camp
OUR TRAINING
| | | | |
| --- | --- | --- | --- |
| Day | Mondays | Thursdays | Saturdays |
| Time | 6:00 pm to 7:30 pm | 7:30 pm to 9:00 pm | 8:00 am to 10:00 am |
| Venue | SMU Pool | Toa Payoh Stadium | Sentosa |
OUR ACCOMPLISHMENTS
September 2022 
1) Singapore University Games (SUniG) 2022 
TEAM
Women: Gold 
Men: Bronze 
INDIVIDUAL
Lea Amort: 1st Position (Women) 
Regin Ng (Y2 SCIS): 3rd Position (Women) 
January 2023 
1) Trifactor Affiliate Club Virtual Cycling Challenge: Top 4 
2) Trifactor Lite Aquathlon
- Adrian Teh (Y3 SOL,SOB): 3rd Position, Men's Open  
- Glenn Yin (Y4 SOA): 4th Position, Men's Open  
- Regin Ng (Y2 SCIS): 2nd Position, Women's Open  
- Hilda Chan (Y2 SOB): 3rd Position, Women's Open  
February 2023 
1) Metasprint Aquathlon
- Club Challenge: 3rd Position 
- Regin Ng (Y2 SCIS): 3rd Position, Women's Sprint (20-24) 
- Justin Tan (Y4 SOB): 3rd Position, Men's Sprint (25-29) 
- Marc Ong (Y2 SOB) and Lim Kai Jun (Y2 SOB) 2nd Position, Men's Relay 
- Ryan Yeo (Y2 SOB, SOSS) and Natalie Koh (Y1 SOB): 2nd Position, Mixed Relay  
2) Metasprint Duathlon 
3) Metasprint Triathlon 
March 2023 
1) Sembawang Biathlon
- Ryan Yeo (Y2 SOB, SOSS): 4th Position, Men's Open 
- Marc Ong (Y2 SOB): 5th Position, Men's Open 
2) Singapore International Triathlon 
May 2023 
1) Lions Singapore Aquathlon 2023 (Inter School Championships) 
- Natalie Koh (Y1 SOB): 3rd Position, Intervarsity and College Cat 
- Hilda Chan (Y2 SOB): 4th Position, Intervarsity and College Cat 
2) NUS Biathlon 2023 
- Regin Ng (Y2 SCIS): 1st Position, Open Cat 
- Natalie Koh (Y1 SOB): 3rd Position, Open Cat 
3) Trifactor CycleRun and Bike Challenge 2023 
HOW TO JOIN THE CLUB?
Students do not need to audition to join SMU Aquathlon. Every SMU student is welcome to join the club!
"Partially to maintain my health and partially for the experience, I thought it will be really cool to step out of my comfort zone too and experience something new. Hopefully to accomplish my childhood dream someday; complete a full iron man."
- Jeffery Lau, School of Computing and Information Systems Year 1
"I've always admired the fitness and endurance of triathletes! I enjoy running regularly but I can't swim so it would be fun to learn a new skill as well."
- Andrew Kho Jia Hao, School of Economics Year 1
Is it a competitive CCA or can I join for leisure even without any experience?
Both! If you are the competitive type, there are multiple opportunities for you to compete and represent SMU. However, if you prefer to take part recreationally, our trainings are tailored to all experience groups and will equip you with the skills to complete an open water swim as well as a 5km run. Regardless of experience, we train together and improve together!
Who conducts training for the club?
Our coach is often present to guide us through our training. He provides us with workouts tailored to the team to allow us to grow most effectively. If he is not around, our Captain will be there to guide you! :)
Is this a team or an individual sport?
Aquathlon is an individual sport done as a team. Participants complete both swim and run segments consecutively and on their own.
In races, the team aspect comes from the cumulation of individual timings or positions. The effort of each member will count towards us consistently winning the club challenges. As such, everyone strives to improve together to win together as a team. This inspires us to motivate each other, train together, and win together. 
Can I join if I don't know how to swim?
Yes, we welcome everyone from all sorts of backgrounds! In fact, most of our members joined without any prior background in swimming. We have experienced members to guide you during training. Through our progressive training, and with like-minded teammates here to motivate and inspire one another, you will soon be seasoned enough to swim in the open waters!
How is training usually like?
Our training encompasses a mixture of intervals, conditioning, and more. Our training intensity is tailored to the club members' abilities and the training department works closely with the coach to ensure everyone in the club can perform to the best of their abilities.
"Trust our coach, trust the training, trust your teammates and of course, trust yourself." 
Between sets, we enjoy discussing trivial topics and cracking jokes with one another. These conversations make training fun and memorable and take our minds off the hectic school lifestyle that all students experience. Training sessions are not just about training but a time for our members to bond together and interact with one another. 
We do spend time outside of training and grab a meal after it. Food is good, the company is better!
Continue your journey here...