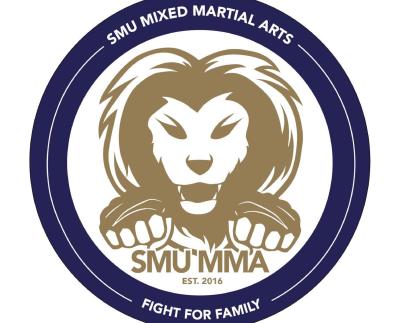 SMU Mixed Martial Arts

ABOUT US
SMU Mixed Martial Arts is a dynamic sports club that blends the disciplines of Brazilian Jiu-Jitsu (BJJ) and Muay Thai to provide a well-rounded and comprehensive martial arts training experience. 
Brazilian Jiu-Jitsu is a grappling-based martial art that focuses on utilizing leverage, technique, and submissions to overcome opponents regardless of their size or strength. At SMU MMA, the art of Brazilian Jiu-Jitsu takes centre stage, offering members an in-depth exploration of ground fighting, positional control, and submission holds. Through rigorous training sessions and expert guidance, members develop not only physical prowess but also mental resilience and strategic thinking.
SMU MMA also incorporates the striking techniques of Muay Thai, also known as the "art of eight limbs", which is renowned for its use of punches, kicks, elbows, and knee strikes, making it a powerful and versatile striking art. By integrating Muay Thai, members gain a comprehensive skill set that combines effective striking and stand-up techniques with the exceptional ground control and submission expertise of Brazilian Jiu-Jitsu.
With a supportive and inclusive atmosphere, SMU Mixed Martial Arts provides a platform for individuals of all skill levels to train, learn, and grow together. Whether you are a beginner looking to learn self-defence techniques, an experienced athlete aiming to refine your skills, or simply someone who wants to stay fit and have fun, SMU MMA welcomes you!
OUR TRAINING
BRAZILIAN JIU-JITSU AND MUAY THAI
| | |
| --- | --- |
| Day | Tuesdays and Thursdays |
| Time | 7:15 pm to 9:15 pm |
| Venue | SMU Concourse |
HOW TO JOIN THE CLUB? 
SMU MMA welcomes everyone, regardless of their experience level. No audition is needed to join the club. There will also be free trial sessions for people to attend to get a better sense of what the usual training is like. These trial sessions are free-of-charge.
"If you have always wanted to try something new but never knew what to try, come join us! People of all levels are welcomed so don't worry if you are a beginner. The coach will patiently guide you step by step." 
- Abigail Lee, Vice-President, School of Computing and Information Systems, Year 3
"I've always wanted to learn mixed martial arts. However, the fees offered at the various gyms in Singapore are very expensive. Luckily, SMU MMA is very affordable and you only have to pay a small sum of money and at the same time, learn both Muay Thai and BJJ!"
- Kwek Hong Heng, President, Lee Kong Chian School of Business, Year 3
"When I first started, I was scared and felt that it was very awkward to roll all over the mats when we practice BJJ. But slowly, with the help of the friendly people around me who guided me through every training and the coach who ensures we do the chokes properly and safely, it stopped feeling awkward and I started having a lot of fun while learning." 
Abigail Lee
SIS: Year 1
" I wish to improve my physical fitness and learn some moves for self-defense. I have always found it to be cool. However, I didn't manage to learn in the past due to time constraints."
Jovin Yap
SIS: Year 1
" I want to join a CCA that allows me to pick up a new skill while being a challenge. I also want to maintain a fitness level and learn self defence."
Suyi Toh
LKCSB: Year 1
" It's a way to keep fit while learning self defence, I also wanted to learn a new sport."
Charis Lim
SIS: Year 1
" I want to make friends, keep fit and learn some self-defense techniques."
Hannah Teo
SOSS: Year 1
"Rolling fun..."
Justin Hoo
SOL: Year 3
" I am interested in martial arts and would like to train with other like minded individuals as a form of stress relief and leisure. "
Joel Tan
LKCSB: Year 1
" I am interested to learn something new :)"
Shadichha Adhikari
SOSS: Year 1
" I guess I really want to learn more about self-defence and to get stronger physically and mentally. I've tried judo before and I felt like I wanted to explore more beyond that."
Sylvia Goh
SIS: Year 1
" I am interested in learning martial arts, but I don't want to learn just one martial art."
Tan Xin Yi
SIS: Year 1
Previous
Next
Who conducts regular training for the club?
Our training will be conducted by highly-qualified coaches that have years of experience in mixed martial arts. Our current coaches (as of 2023) are Bruce and Melvin from Impact MMA.
Do people get injured a lot during practice?
Safety is our utmost priority. During training, we focus on ensuring proper techniques are used to minimise the risk of injuries. There's also sufficient rest and water breaks given so our members do not over-exert themselves. Members are also reminded to tap out while sparring with their partners to tell them to stop what they are doing.
How do I join as a member?
We will be sending out recruitment emails to all undergraduates. After filling out the sign-up form, members are selected on a first-come-first-serve basis and will pay the membership fee of $45 (subject to changes). Thereafter, you will be added to our members-only telegram group as an official member for that particular semester.
Continue your journey here...