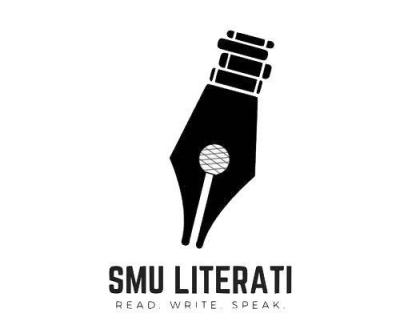 SMU Literati (Literature & Writing)

ABOUT US
As a member of the Arts and Cultural Fraternity (ACF), SMU Literati devotes itself to promoting the expression of the written and spoken word amongst SMU students. In a business school where staid academic literature reigns supreme, Literati strives to remind students of the fun in appreciating literature at leisure.
So come, partake in Singapore's literary scene alongside us! Find catharsis in Literati's Writing Competitions, and hone your craft by exchanging feedback with fellow writers at Writing Circle sessions. Publish your works in Literati's collaborations with SMU Libraries and other ACF clubs, such as our upcoming 2023 Vitality collaboration. A wide variety of other activities also awaits you, as Literati regularly plans initiatives with external organisations such as Migrant Workers of Singapore, Cat Welfare Society and more. If you're inclined to read our works, you may even anticipate Literati's anthology--slated to be published this year!
KEY EVENTS
Typewriter Workshops
Literary Discussions
Poetry Competitions 
Writing Exchanges 
​​​​​​​
OUR ACCOMPLISHMENTS
SMU Excellence in Student Life Silver Award (Arts Club: Small Group) 2023
SMU Excellence in Student Life Gold Award (Arts Club: Small Group) 2022
SMU Excellence in Student Life Gold Award (Arts Club: Small Group) 2021
HOW TO JOIN THE CLUB? 
Students do not need to audition/ interview to join SMU Literati, all you need to do is participate in 2 club events and feel free to join the club Telegram channel any time. 
"I've met some of the most interesting and passionate people through Literati. It is definitely a community that is dedicated to writing even amidst the mess that is university life. To create and capture the intricacies of life amidst our hectic schedules, is an art form I would not want to miss."
- Rachelle, School of Social Sciences, Year 3 (President)
"SMU Literati is a calm breeze in the hailstorm of academics. It's given me a comforting avenue to express myself creatively. I'm glad to be a part of a warm community of writers who support, push, and help each other grow through contests and insightful workshops all year round."
- Renald, School of Social Sciences, Year 3
"I'm interested in Literati because I believe it provides me with the platform to interact with other people interested in poetry and the space to explore writing poetry!"
Lemaine Lin
SOSS: Year 1
"Amidst the chaos, Literati is my safe haven. When numbers drive me crazy, I have found comfort in Literati. Every single one here has been a candle, emitting warmth to everyone around them. We enjoy everything we plan and execute. We challenge ourselves and most importantly, we grow together."
 Chandani Gulzar
SOA: Year 3
Previous
Next
Are there regular CCA sessions?
We do not have regular CCA sessions, but this semester (AY 2021/2022 Term 1), we are piloting a Writing Circle in which members can gather weekly or fortnightly on Friday evenings to discuss and experiment with writing techniques.
Does the club publish?
We are looking to publish our first-ever anthology this year! Do also look out for our emails, and submit your works to our website for them to be featured!
Why should I join?
We are looking to foster an active culture of writing and reading, and you can most definitely contribute to our community as the club takes a step in this direction!
Continue your journey here...