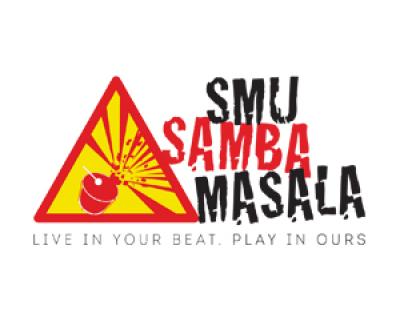 SMU Samba Masala

ABOUT US
Incepted in 2004, SMU's resident Afro-Brazillian percussion band began as a humble dhol percussion group. Since then, Samba Masala has taken on both local and international stages and wowed audiences to establish itself as an esteemed batucada. Having enthralled audiences worldwide in the USA, United Kingdom and Germany, we pride ourselves on our endless enthusiasm, passionate performances, and bold beats. 
Under the tutelage of Singapore's leading percussionists, members will experience a vibrant 2-year journey that starts with learning the basics of their instrument. In no time, even those without prior musical experience will be able to captivate audiences through our unique beats and sheer showmanship. Curious to hear what fusion Asian/Brazilian percussion sounds and looks like? Visit our YouTube page to see our family in action!
KEY EVENTS
Christmas Busking
Each Christmas season, we take our lively performances to the streets to busk for charity
Gigs and Events
Every member will have numerous opportunities to perform for various gigs and events, especially given the reopening of the arts scene
Viva-O-Samba
Samba Masala's very own samba festival, and the largest in Southeast Asia
Coburg Festival
The largest samba festival in the world, held in Germany
OUR TRAINING
JUNIOR TRAINING
Day
Tuesdays
Fridays
Time
7:30 pm to 10:30 pm
Venue
Arts & Culture Centre (ACC), SOE/SOSS B1
Music & Drama Lab (MDL), SOE/SOSS B1
SENIOR TRAINING
| | | |
| --- | --- | --- |
| Day | Thursdays | Fridays |
| Time | 7:30 pm to 10:30 pm | 3:30 pm to 6:30 pm |
| Venue | Arts & Culture Centre (ACC), SOE/SOSS B1 | Music & Drama Lab (MDL), SOE/SOSS B1 |
OUR ACCOMPLISHMENTS
SMU Excellence in Student Life Award (Club) 
Silver (2018)
SMU Excellence in Student Life Award (Club)
Bronze (2019)
SMU Excellence in Student Life Award (Club)
Bronze (2020)
SMU Excellence in Student Life Award (Club)
Bronze (2021)
HOW TO JOIN THE CLUB? 
Students need to audition to join the club. There will be workshops held for freshmen to experience the different instruments - however, neither musical experience nor workshop attendance is required to audition, and rest assured we do not base acceptance on applicants' technical mastery alone! For more information on our workshops and auditions, follow us on instagram where we'll be sharing more details soon!
"Being in a huge CCA like Samba Masala gives me a sense of familiarity regardless of where I go on campus because our members come from different disciplines. Despite our differences, none of that matter when we step foot into ACC/MDL for pracs as we try to perfect both songs & choreo. I can get stiff & have trouble coordinating my body parts while playing my instrument at the same time, but working on it with a my Samba Masala family makes it all enjoyable 🤩"
- Muhammad Asnawi bin Wahid, School of Information Systems Year 3, Music Director
"Samba is something that I can always anticipate attending, whether its to meet my friends or simply to have fun during practices. I've met many new friends and found my home in them here (especially the dhollies hehe 😘😘), which is something I'm extremely grateful for. Grooving and practicing together as a band is always exciting with the high energy levels and everyone always giving their all!!"
- Natalie Oh Jia Qi, School of Social Sciences Year 3, Marketing Director
"I was attracted to Samba because everyone in it looks so fun and happy. I want to learn about a new culture, how to play a new instrument and meet new friends. Lastly, I like the music and seems good for relieving stress hehe." 
Euodia Tan Qiao Yue
SIS: Year 1
"Home. These are the people who make waking up early for gigs, staying in school till 12 am for performance preparation and jamming in the store after a whole day of lessons, worth it. The ties I've created in Samba are truly irreplaceable." 
Nurin Nasuha
SOSS: Year 3
Previous
Next
How many years do I have to commit to the club?
Samba Masala is a 2-year commitment, unlike many other clubs in SMU! The first year will focus mainly on learning the band's repertoire and performing for school-based events, while the second year will involve participating in external gigs on top of performances for school events. After 2 years of being a member, you can choose to  join our alumni bands to continue your Samba journey.
Will there be auditions?
Yes. The audition will assess your general sense of rhythm, tempo, coordination and learning speed.
Do I get to choose the instrument I want to play?
Auditionees will get to state their top 3 choices. However, these choices will be assessed by our Music and Training Directors during the selection process to ensure that everyone gets placed in the section that they are most suited for.
Continue your journey here...