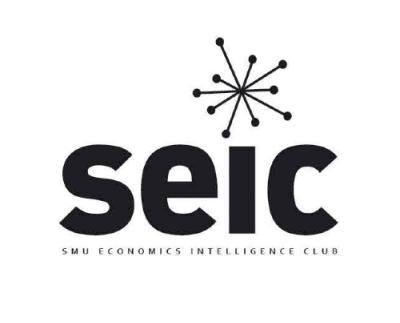 SMU Economics Intelligence Club

ABOUT US
SMU Economics Intelligence Club (SEIC) aims to be the premier hub for SMU students to explore how global developments affect economies, markets, and socio-political issues, to transform them into future change-makers.
Our mission is to foster a conducive learning environment for discussions and ideas, equip students with industry-ready skills in macroeconomic research and intelligence, and promote interest in economics regardless of discipline.
We aim to foster capabilities, confidence, and community within our student-run group. We welcome everyone - join us now! For the newest information concerning SEIC, who we are, and what we offer, please refer to our Recruitment Deck.
KEY EVENTS
Research Analyst Programme (RAP)
The RAP is a 2-semester long programme designed to equip students with fundamentals for the industry - regardless of field or sector. Analysts learn how to do research, read economic data, understand political developments, and craft valuable insights on their own. Our members also produce reports available to the public, to both keep our research skills sharp, and build our portfolio of research products for industry. For more details, please refer to our Recruitment Deck.
Research/Writing Workshops

We frequently hold research and writing workshops by our seniors, SMU Libraries, alum, and more.

Friends of SEIC: Networking and Sharing Sessions

We regularly invite our alum and working professionals who are Friends of SEIC back to the club to share more about their experiences with students interested in careers related to Economics, Financial Research, or Current Affairs. Our network spans multiple industries and firms, such as various offices in the Minister of Trade and Industry, hedge funds, sell-side investment institutions, macroeconomics consulting firms, and more.

SEIC prioritises community, and hopes that all students who benefit from these sessions will consider coming back once they begin their careers, to have their own sharing sessions to pass it on.

Future Economy Forum 2023
The Future Economy Forum is our flagship event, Singapore's first undergraduate macroeconomic research conference seeing 80 participants from 6 different schools. We also hosted a panel discussion with prominent economists, esteemed academics, and renowned trade negotiators to discuss the future of the global economy.
OUR TRAINING
| | |
| --- | --- |
| Day | Fridays |
| Time | 4:00 pm to 6:00 pm |
| Venue | School of Economics |
OUR ACCOMPLISHMENTS
SMU Excellence in Student Life Bronze Award (2020)
HOW TO JOIN THE CLUB?
All sign-Up links will be on our Linktree. Any student may join us as a General Member to be given access to our events, research, workshops, and more. However, if you wish to join the RAP, you must go through a two-round application process. Round 1 entails a submission of a short research piece, while Round 2 is an Interview with some of our members.
"SEIC's Research Analyst Program has driven me towards pursuing my passion towards studying in the field of economics, through reading global economic current affairs, interpreting trends and graphs, and intellectually challenging me in applying economic theories learned in SMU modules in inferring, analyzing and suggesting potential recommendations and solutions."
- Ace Chua Yi Da (Research Analyst)
"Joining SEIC has genuinely been one of the highlights of my university life, I was able to broaden my knowledge through research and my published topical articles gave my CV a boost, enabling me to feel more confident about my experiences and helped me clinch internship opportunities"
- Daphne Tong (Research Analyst)
What is the Research Analyst Program?
The Research Analyst Program (RAP) is SEIC's flagship programme which recruits students interested in understanding how economic data, political developments, policy shifts, and any piece of news may affect global markets, macroeconomies, and societies.
Throughout the two semesters, you will learn skills for industry, and write pieces to not just keep these skills sharp, but also build a portfolio of reports. The first semester will focus on learning fundamentals, while the second will focus on practicing them. The only way to learn industry skills is to practice them, and learn from the challenges we face along the way. Instead of packing commitment into one semester and overloading, we spread out the growth path across one year for a more gradual learning process.
Students may opt to stay on as a Research Analyst to produce more publications to build their portfolio after the two semesters. We welcome all students who wish to join our friendly community!
Is SEIC only looking for Economics students?
No. SEIC invites undergraduates from all schools and interests to join the RAP or as a General Member. Last semester, we had active analysts from Year 1 to Year 4 from 5 different schools.
Our club emphasises on interdisciplinary research, and diversity of thought is at the heart of what SEIC stands for.
What is the weekly commitment level like?
Every week will have a two-hour session between 4PM to 6PM.
However, realistically, if analysts are interested in growing and developing skills to become industry-ready, students must learn how to keep up with current affairs and recent developments, while practicing their skills on their own.
Ideally, our analysts actively track news on their own, which requires some devotion to reading (which we will also support through lessons and resources).
What do we look out for in our Analysts? Do I need prior experience?
We are looking for Analysts who are curious, committed, and genuine about the work that we do. Our team works hard to deliver quality lessons every week, and create a structured curriculum to prepare students for industry. We are prepared to give.
All we expect are for analysts to be prepared to receive, and take full advantage of our programmes to grow. This involves setting aside time on Fridays for our sessions (barring unforeseen circumstances), taking the time to prepare for sessions by keep up with news as best as you can, and discussing developments with others.
Continue your journey here...