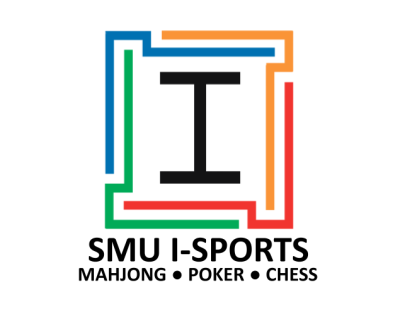 SMU I-Sports

KEY EVENTS
Look out for these events in December!
Riichi Mahjong Tournament
International Chess Tournament
Poker Tournament
​​​​​​​
OUR TRAINING
| | |
| --- | --- |
| Day | Fridays |
| Time | 4:00 pm to 10:30 pm |
| Venue | Any classrooms in Connexion, SOA or SOB (Will be announced in our Telegram chat) |
OUR ACCOMPLISHMENTS
Singapore Polytechnic Open 2022 -- Team 5th
Singapore Inter-Varsity Chess League 2022/2023 -- Champion Team
Asia-Oceania University Chess Championships 2022 -- Team 4th (Open Category)
FISU World University Championship Mind Sports 2022 -- Lee Qing Aun: Men Classic 11th, Men Blitz 6th
Temasek Polytechnic Open 2022 -- Khor Eng Yeow: 6th
SUTD Team Blitz Championships 2023 -- Participated
HOW TO JOIN THE CLUB? 
Students can join the club by filling up this Membership Form: https://forms.gle/kyF5cG8bgddd3KHy9

Please join our Telegram groups for more details on our weekly sessions!
"SMU I-Sports is where I synergise academic learning and non-academic adventure, applying one into another. The strategies learnt in Riichi Mahjong and Texas Hold'em Poker are highly applicable to my coursework as a strategic management major. More importantly, I-Sports is where we all come together and de-stress, relax and have fun!"
- Martin Layar, Lee Kong Chian School of Business Year 4
"I-Sports treats games that most would consider reliant on luck or a gamble as mind-sports that allow like-minded people to think about strategies on a deeper level."
- Chan Hur, Lee Kong Chian School of Business, Year 2
"A community, warm and welcoming, that has helped me in getting to learn the games from scratch. Ever since my first year in SMU, I-Sports has provided me with the relaxation from a long and busy week in school and the fun-loving people to mingle around with. This was also the reason for taking up this role!"
Elijah
SOE and SOSS: Year 4
"From Year 1, stepping into I-Sports for the very first time, despite not knowing anyone, I was amazed by the cheerful and vibrant atmosphere and how the seniors were so friendly and helpful. Till this day, I'm still in I-Sports and have met my closest friends here. How many of you can say you were in a CCA for your 4 years?"
Qiu Junwei
SIS: Year 4 
"2nd year in SMU here, for me I was interested in this CCA because it was particularly rare to find people that are willing to join in playing this kind of games on a weekly basis. Furthermore, it is going online and free as well, so there isn't really any harm diving in and trying out a couple of games of your own with some like-minded people. You might even learn some new skills heh. For example, I learnt richii mahjong, which is like an advanced version of the mahjong we play casually, and it really helped to improve my game in casual settings. For those interested in any of the i-sports offered, I strongly encourage you all to just try, even if you all are just attempting it for the first time. "
Isaac Kwah
SOA: Year 2
Previous
Next
Do we need to have experience to join the club?
You don't need to be great to start, but you need to start to be great. Many beginners in the past have joined SMU I-Sports and even turned champions! Anyone has the potential to do well, and there's no need to be shy in joining us even if our games are a first to you. We welcome all who are willing to learn.
How are the weekly sessions conducted?
We hold weekly sessions every Friday from 4 to 1030PM where players can simply play games with each other. You do not have to stay for the whole duration if you don't wish to. The venue for physical sessions would usually be in SMU Connexion classrooms.
Continue your journey here...