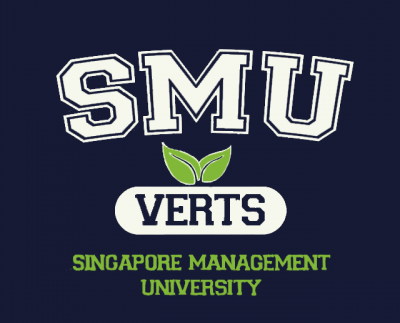 SMU VERTS

ABOUT US
SMU VERTS is SMU's official environmental sustainability club that promotes environmental responsibility and empowers individuals to do their part for the environment through exciting events and sustainable practices. We strive to promote sustainability at large and encourage the SMU population to adopt more eco-friendly habits!
These include attending eco-friendly workshops, exchanging recyclables to get sustainable products, and other hands-on activities to bond with other members and learn about your impacts on Mother Earth. Verts members can enjoy exclusive discount codes for sustainable brands and can also win prizes for different environmental challenges. 
KEY EVENTS
Vegan Picnic (We are back!)
Hang out with other Verts members and meet individuals who care for Mother Earth as much as you do
Beach clean-up
Do something fun and exciting while making a difference to the local community <3
Hands-on workshops
These include a recycling drive, sustainability workshops, and many more!
World Water Day 2024
Look out for our next collaboration with multiple stakeholders to celebrate this international occasion in 2024
OUR ACCOMPLISHMENTS
World Water Day 2023 Installation
We collaborated with PUB to host our World Water Day 2023 Installation.
'Ex-change Your Bad Habits' 2020
Over 170kg of recycled materials were collected from almost 250 participants in just 2 days during our 'Ex-change Your Bad Habits' event in January 2020 where participants can exchange their recyclable items for reusable ones.
After a halt from break, we are back with our annual SMU Vegan Picnic (free for all attendees!) which was first held in February 2020! Yum :P
We held our very own Tree Plantation Day with the Ministry of National Development in July 2022! The event was even graced by the presence of the honourable Minister, Mr Desmond Lee.
HOW TO JOIN THE CLUB? 
Students do not need to audition/ interview to join the club. We welcome all!
"I want to join SMU verts because I have been deeply interested in sustainable living and have been plant-based almost all my life. I even started a project where I organised workshops and wrote articles about environmental issues and sustainable living last year."

- Nandini, School of Economics, Year 1
"Last year I joined SSUD3 and I want to be a part of an eco club for the rest of my uni life! I want to meet more like-minded people and also find opportunities to make a difference in the community" :)

- Cindy. Lee Kong Chian School of Business, Year 2
"SMU VERTS has allowed me to befriend and work with likeminded individuals who care about the environment as much as me, if not more. Since then, I had expanded my knowledge on how to better advocate for sustainability from various workshops, hangouts and discussion sessions."
 Lee Chaehyun
LKCSB: Year 3
"Verts has brought more liveliness into my SMU experience! From connecting me with likeminded awesome people to providing opportunities for me to learn more about environmental projects, I am so glad to have platform to grow my passion for environmental sustainability!"
Shania
LKCSB: Year 2
" I think sustainability is a very important issue that Singaporeans should know about more especially the older generation. So, I do hope to expose myself to ways I can change my lifestyle habits to a more sustainable one and teach others the same!"
Tan Yeo Shi Lee
SIS: Year 1
" I am passionate about environmental sustainability and I believe that Verts is a CCA which will allow me to learn more about it and also spread the message to others effectively, so that we can all make a small difference for the environment. "
Shah Dhwani Umeshchandra
LKCSB: Year 2
Previous
Next
Are there any regular sessions?
Nope! We don't have weekly/monthly sessions like sports CCAs since we are an event-based club. But we do have regular signature events such as Vegan Picnic that happens yearly! So do keep a lookout for these signature events! 
What would you say are benefits of being in the club?
Firstly, you get priority for our events! Our events like Vegan Picnic and Upcycling Workshops are highly sought after but unfortunately have limited slots available. As a member, you get priority for sign ups!
Secondly, VERTS members can enjoy exclusive discount codes for sustainable brands and can also win prizes for different environmental challenges. Some of our partners include Veganburg and The Sustainability Project. 
Lastly, you build a community of sustainability-minded folks with us. The network created, the eco-tips shared over fun-filled events and the bond created while working for a common goal in mind is irreplaceable.
Does SMU VERTS' events provide CSP hours?
Unfortunately, SMU VERTS is not providing any CSP hours for our events. However, we provide educational and fun-filled eco workshops that can value-add to your knowledge on sustainability.
Continue your journey here...