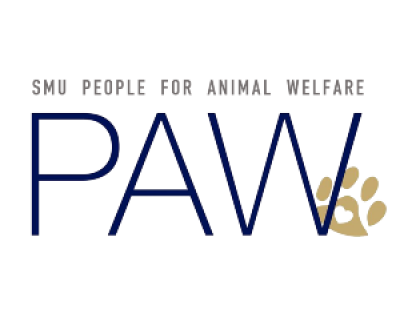 SMU People for Animal Welfare (PAW)

ABOUT US
SMU PAW is dedicated to fostering love for animals, promoting responsible pet ownership and adoption, and preventing animal cruelty among the SMU community and the general public.
To raise awareness and educate the community about animal welfare, SMU PAW organises events and gatherings, conducts volunteering sessions and programmes, and collaborates with animal welfare groups. We aim to promote discussion about animal welfare issues in the community! As a member, you get priority to special SMU PAW events (hint: with animals!) and exclusive volunteering opportunities to help the animal welfare community. 
KEY EVENTS
SMU PAW Animal Day
Our annual signature event where we bring animal lovers together to promote adoption, to raise awareness and educate the public on animal welfare. It is a family-friendly and pet-friendly event that is packed with a day of fun filled activities, workshops, exhibitions, PAWgeants and many more! Animal welfare groups and advocates will also be invited to join us on this special day to spread word about their cause and stories about their journey in animal welfare. It is the largest event conducted by SMU PAW, garnering a crowd of 700 annually in recent years. 
OUR ACCOMPLISHMENTS
SMU PAW Animal Day
SMU PAW raised 330kg of pet food donations during SMU PAW Animal Day
Howl-o-ween 2019
SMU PAW raised $530 for Oasis Second Chance Animal Shelter during Howl-o-ween in 2019
SMU PAW Animal Day 2020
SMU PAW raised 500kg of pet food and $1395 worth of donations for our beneficiaries during SMU PAW Animal Day 2020
HOW TO JOIN THE CLUB? 
Students do not need to audition/ interview to join the club. We are open to all pet owners and non-pet owners alike! We believe that everyone can be the voice for the voiceless, and participate in their own capacity towards contributing to the animal welfare scene. We are always keen in sharing with people about what the animal welfare scene is about, regardless of their status, so long as they are willing to learn.
"Growing up, I was fortunate enough to have hamsters and a dog as a pet. Even though my pets have sadly passed away, I still remember the joy they gave me while growing up and allowing me to have a friend. I chose to join SMU PAW as I want to be able to give back the happiness to the animals like how my pets used to provide for me in the past. Not only that, I hope that I will be able to share the message that animals are just like us humans, and that they deserve the care and respect like we have."
- Koh Jia Hui, Lee Kong Chian School of Business, Y1
"SMU PAW provides me the opportunity to help the animals in need and also to raise awareness about animal cruelty, amongst my school mates. As a pet owner myself, I feel a stronger passion to provide these animals with the support and love they deserve as I feel a deeper connection to them!"
- Rochelle Tay, Lee Kong Chian School of Business Year 1
" I want to share the love I have for dogs and every other pets who need it and I strongly believe that animal welfare should be highly regarded."
Li Zi Qi
SIS: Year 1
" I love animals and I have always been wanting to volunteer for such a cause and this is the perfect opportunity for me to help the animal welfare community." 
Chia Wen Yu Miyo
LKCSB: Year 1
" I really love animals and I would want to be part of SMU PAW to be an advocate for animal welfare! "Be the voice for the voiceless" spoke to me, no animals deserve to be treated inhumanely. I really would enjoy a CCA where everyone brings love and help to animals!! :-) " 
Cindy Chua
LKCSB: Year 1
" I like interacting with animals as it brings me joy. I believe by joining SMU PAW, I'm able to not only interact with animals but also raise funds and volunteer for them." 
Chia Jia Yu
LKCSB: Year 1
" I love animals and I wanna be a part of helping the dogs and cats in the shelters! Going to the animal shelter always lift my mood too because I have the passion to take care of the animals. I used to go to the animal shelter last year and I feel that joining SMU PAW as a member will definitely be beneficial in many ways to the animals and to me." 
Valencia Tan
SIS: Year 1
" Personally, I have a toy poodle, Maya, which I love dearly. Close interaction with her over time has made me realize that animals have their own emotions and way of expression and it is important that we do not ignore or misunderstand the messages. No animals should be abused or ill-treated for being who they are. All they need is to be understood and be given the adequate love and affection for us. I would love to be a part of PAW to speak up for the animals and spread compassion and love to both the community and the animals as well." 
Wynona Yang
LKCSB: Year 1
" I have a deep love for animals and would like to learn more and help." 
Lee Zhi Yu
SOA: Year 1
" I've always wanted to help animals and joining SMU PAW provides me with the opportunity to do so. I also like that I can advocate for animal welfare which is a topic that I believe needs to be voiced out more so that more people are aware." 
Lee Yin Joan
LKCSB: Year 1
" I've always loved animals and am keen to join a club that not only seeks to inspire love for animals but also promote responsible pet ownership and the prevention of animal cruelty. I would love to join a club that strives to help the animal welfare community through projects and initiatives that improve lives and, in doing so, give back to a cause that is both extremely meaningful and close to my heart. " 
Mayleen Low
SOL: Year 1
Previous
Next
What is the membership requirement and commitment?
To join SMU PAW, potential members would need to pay a membership fee of $15*! To maintain an active membership status, members will have to attend or volunteer for at least 1 PAW event per semester to maintain an active membership status. To regain an active membership status, you would need to pay the $15 membership fee again. 
As a general member, there is no weekly commitment as PAW is events-based. However, we do have a separate programme (SMU PAW Shelter Programme) that is commitment-based (limited slots available!).
Do I get CSP Hours for joining PAW?
No. Participating or volunteering at our events will not earn you CSP hours. CSP hours are only awarded to PAW members under our Shelter Programme. (With a minimum commitment period of 36 weeks throughout the Programme and achieving 75% attendance rate)
How do I join the Shelter Programme?
We only hold our recruitment once per academic year and slots are limited! Currently, we are collaborating with three Animal Welfare Groups for this Programme; Causes for Animals Singapore (CAS), The Right to Live (TRTL) and Oasis Second Chance Animal Shelter (OSCAS).
Admission to the Shelter Programme is subjected to an interview conducted by the SMU PAW Executive committee, Shelter Safety I/Cs and senior volunteers. The first recruitment begins late September, watch out for the recruitment email!  
Continue your journey here...