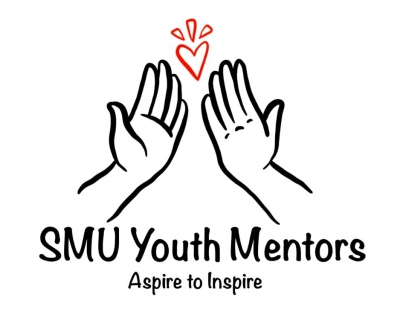 SMU Youth Mentors

ABOUT US
SMU Youth Mentors was established to support the holistic development of primary and secondary students in Singapore through weekly mentoring sessions.
Mentoring offers an array of benefits for both mentors and mentees. As a mentor, you will gain opportunities to meet fellow like-minded mentors, a great way to start your freshmen year and expand your social circle! Moreover, you will be making an impact by being a positive influence on the youths. Most importantly, your mentees will develop important academic and soft skills like communication and rapport-building through your mentoring relationship with them. Your practical advice, encouragement and support will help increase their academic and social confidence.
Furthermore, our non-obligatory lifetime membership means that you have priority to our mentoring opportunities throughout your SMU journey, for as long as you wish! This gives you ample opportunities to give back to your community and clear your CSP hours. In fact, most mentors clear their CS requirements in 2 to 3 semesters but choose to retain their membership so that they can continue tutoring and giving back to their beneficiaries. Join us to start your mentoring journey and help empower our local youths to become autonomous leaders!
KEY EVENTS
Academic Support Programmes

- Bedok View Secondary School

- Kent Ridge Secondary School

- North Vista Secondary School

- Tasek Jurong

Club Events
- Club Cohesion

- Mentors' Initiation Day

- Mentors' Appreciation Day

- Welfare Drive
OUR TRAINING
Each mentor will be allocated to one programme and one session only. Sessions may be held in-person or online. Day, timing and mode of each programme are subject to changes.
Tuesday, 3:30 pm to 5:30 pm, Kent Ridge Secondary School
Tuesday, 2:00 pm to 5:00 pm, North Vista Secondary School
Friday, 3:00 pm to 5:00 pm, Bedok View Secondary School
Friday, 7:30 pm to 9:00 pm, Tasek Jurong
HOW TO JOIN THE CLUB?
Look out for our recruitment emails! Shortlisted applicants will be invited to attend an interview with us. Stay updated on our recruitment drives by indicating your interest here.
"SMU Youth Mentors has allowed me to become more empathetic and grateful towards others. Through the interactions I had with my mentees, I have learned to appreciate the smallest things in life that I took for granted. I have also forged many valuable friendships with my fellow mentors."
- Neo Jia Ying, Mentor, School of Computing and Information Systems, Year 4
"Thus far, my journey with Youth Mentors has been extremely rewarding. Through meaningful interactions and experiences with beneficiaries as a mentor since Year 2, I was able to contribute towards improving the lives of fellow youth. Moreover, I had the opportunity to embark on a path of self-discovery and growth."
- Chua Kai Zhen, President, School of Social Sciences, Year 4
"BP Mentoring has emphasised and inculcated a sense of commitment and continuity from me to my mentees. Through weekly sessions, it has certainly shaped me to become a more patient and empathetic individual. By imparting academic knowledge and sharing my life experiences, they can develop their interest in learning holistically!"

Bill Wong Hong Ming
SOA and LKCSB: Year 2
"SMU BP Mentoring has allowed me to grow and contribute back to society through caring for youths-at-risk, where I become more conscious about my words and actions. My otherwise mundane SMU life has been brightened with BP Mentoring, especially through the friendships forged with fellow mentors."

Allyson Lim Yun Jia
SIS: Year 4
Previous
Next
When is the recruitment of mentors done?
Recruitment of mentors are typically conducted in January. However, we may also hold recruitment drives along the way if additional manpower is required for existing or new programmes. Thus, do keep a lookout for our recruitment emails if you are interested in joining SMU Youth Mentors!
What happens during a typical session?
During sessions, we will be assisting mentees with their homework or assignments provided by beneficiaries. You may expect students to seek emotional support and advice from you as they share their experiences. Therefore, it may be helpful to also prepare and share tips relating to time/stress management to guide them towards success.
Do we need prior tutoring or teaching experience to join?
No, you do not! Although it would be a bonus if you withhold teaching experience, most importantly, we are looking for someone is driven to learn, possess a strong passion in bettering the lives of fellow youth, and someone who has the ability to be a positive influence on them.
Are there sessions during winter/summer break or during the secondary school holidays?
It depends. Usually, programmes involving primary and secondary school students will not conduct sessions during the June and December holidays. However, if the beneficiary decides to continue sessions during the school holidays, we will require mentors to participate in these sessions as well. We will inform mentors if commitment is required during the June/Dec holidays before they sign up for a programme.
Will internships or LOA affect our membership?
Mentors can retain their membership with the club despite going on internships or LOAs if they have volunteered for at least 1 semester with us. However, they are required to fulfil at least 80% attendance for the programme during that semester to retain their membership.
Continue your journey here...