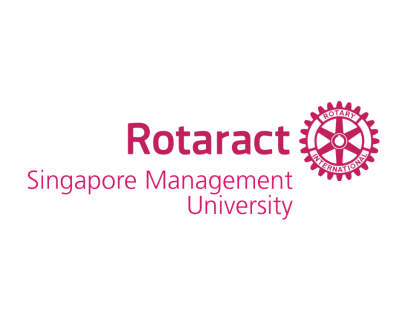 SMU Rotaract Club

ABOUT US
A youth development club that places emphasis on service, outreach and fellowship. SMU Rotaract aims to provide an enriching experience for all our members through our three main avenues - Community Service, Professional Development and Club Service.
Here at SMU Rotaract we are a fun group of people collectively committed to the cause of community service and participants can expect to have ample chances to network with like-minded individuals who have the heart to serve as well as opportunities to hone their soft skills such as communication, leadership and project management through project sessions, workshops and career networking sessions while taking away fond memories of their time serving the community with fellow SMU students.
KEY EVENTS
Community Service
- Project Sparks: A project that seeks to reach out to children with mild autism and dyslexia through hands-on crafts and story-telling.
- Project Nurture: A project to link volunteers with underprivileged children, and to build up essential life skills to empower them.
- Project Bloom: A project facilitating the interaction between volunteers and people with down syndrome, so as to empower them and stimulate their social and emotional development.
- Project Candela: A project to engage migrant workers in meaningful activities, and better assimilate into Singapore through imparting knowledge, skills and forge lasting friendships with them.

Professional Development Events
e.g. Sign Language Workshop, Social Enterprise Networking Session, Waste Management workshop and more. 

Club Service Events
e.g. Exam Welfare Drives and snack baskets, Regular Cohesion events to facilitate interactions between our Rotaractors and to build a fun and inclusive community.
OUR TRAINING
Subjective to the projects
OUR ACCOMPLISHMENTS
District 3310 Merit Award of RY2020-21 
District 3310 Best Professional Development Award(Gold) of RY2020-21
SICS Excellence Club Award 2020
HOW TO JOIN THE CLUB?
We will have interviews to join SMU Rotaract as a volunteer for our 4 main Community Service projects.
"Rotaract has provided me with the opportunity to develop my professional skills. I have had the chance to meet leaders who were the masters of their field. On top of that, Rotaract creates the perfect environment for me to personally give back to the community and make the world a better place. Rotaract makes serving our community a true privilege and pleasure."
- Bryce Yeo, Honorary Financial Secretary, School of Business, Year 2 
"Being in Rotaract amidst COVID-19 was definitely not easy as on one hand I had to deal with understanding a whole new CCA and on the other, have to learn to work effectively virtually. However, it was an experience I would never regret. We always say how trust and communication is very important in a team but it is only through working virtually in Rotaract that I truly understand how important those values are. And finally, Rotaract is a good stepping stone for anyone who is afraid to step out of their comfort zone as everyone in there are all helpful and sincere."
- Farm An Qi, President, School of Accountancy, Year 3
"I am interested in giving back to the community through volunteering. Joining this CCA will provide me with many opportunities to participate in community projects I might not have had the time to source for and register."

Wee Sherry
SOA: Year 1
"Rotaract is a CCA that allows me to give back to the society by helping various underprivileged groups. I find that very meaningful and would like to contribute too."

Ng Wei Ting
LKCSB: Year 1
"I hope to help the underprivileged students and down syndrome people to overcome their difficulties and broaden their perspectives."

Yang Yu Ting
LKCSB: Year 2
"To have a chance to serve the communities, especially for interesting stakeholders (eg. Project Yokefellow - Migrant Workers)."

Kuek Yi Chen
SIS: Year 2
"I am always interested in giving back to the society and wanting to help the less privileged, this CCA will also allow me to meet like minded friends and gain some new skills along the way :-)"

Felicia Sarah Ng
LKCSB: Year 1
"Being able to help others along the way adds meaning to my uni journey. I also hope to learn from those I serve with to discover better ways I can contribute to my community."

Cindy Clara
SIS: Year 1
"Having been on the receiving end, I believe it is significant for me to seek an avenue to consistently give back to society to express my gratitude for all the assistance I had been given. With SMU Rotaract providing students the opportunity to not only serve the community but also developing oneself, this sparks my interest as I can improve my soft skills and better present myself to assist the beneficiaries to the best of my abilities. Furthermore, having a spectrum of beneficiaries in community service projects allows us to better empathise, and understand the community from all walks of life. Ultimately, ensuring that the beneficiaries are enjoying themselves and has gained from our help is the most important aspect I wish to take away from a community service project. After all, seeing a smile on the beneficiaries' faces never fails to brighten up my day and their joy will further motivate, encourage and strengthen my passion to continue serving. "

Lim Hui Yi
SOA: Year 1
"This CCA allows me to give back to the community (which I enjoy doing) and develop myself."

Faith Chng
LKCSB: Year 1
Previous
Next
How do I become a Rotaract member?
Students selected to be a volunteer or organising committee member for our community service projects will automatically qualify as a member of SMU Rotaract.
Continue your journey here...