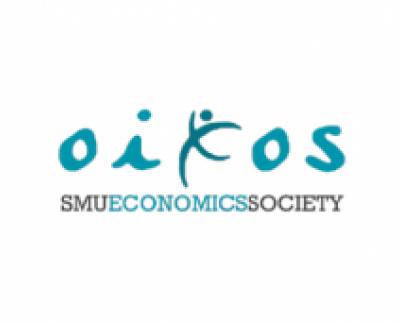 OIKOS (CBd)

ABOUT US
Founded by our pioneer batch of Economics undergraduates in AY2002/03, the society is the student representative body of all SMU undergraduates reading the Bachelor of Science (Economics) Programme. All Economics students in SMU are automatically a part of, and hence represented by, the SMU Economics Society. OIKOS aims to further the interests and welfare of all Economics students here at SMU.
In the aspects of academic and career development, the society strives to empower students with information, resources and opportunities that enable them to make informed choices regarding their education and careers. Apart from providing practical help, OIKOS organises student life activities to encourage a balanced student life here at SMU. Most importantly, the society aims to foster a strong sense of community spirit and for students to take away strong and lasting friendships throughout the course of their study.
KEY EVENTS
OIKOS Freshmen Camp
Under The Stars
Welfare Drives
OIKOSConnect 

Freshmen BOSS Bidding Workshop
HOW TO JOIN THE CLUB? 
Interviews will be conducted towards the end of Semester 1 for those who are interested in joining our Management Associate Programme and serving our OIKOS community.
"Being part of the 18th OIKOS Management Committee was one of the best choices I have made. It has been a  fulfilling journey as I got to gain new experiences and develop myself while serving the student body and I am extremely glad to have journeyed alongside my committee members." 
- Karynn Liew, Vice President, School of Economics, Year 3

MAPS has taught me critical skills such as decision-making and thinking, which have proven to be extremely useful in life as well as the workforce. In addition, being a part of the program helped me discover my field of interest, thus shaping my sense of individuality.
- Yuen Yun Xin, Corporate Communications Associate, School of Economics, Year 2
"Joining the OIKOS Management Associate Program (MAP) and Management Committee has given me the opportunity to gain many professional skills including leadership and negotiation, which I believe will be useful to me when I enter the workforce."
Jamie Leong
SOE: Year 3
"Being part of OIKOS has given me room to grow both professionally and personally."
Tian Zhi Hao
SOE: Year 3
Previous
Next
What is OIKOS?
OIKOS, in SMU, is a constituent body that represents the students in the School of Economics. OIKOS means family in Greek and this is what OIKOS strives to represent as well. We pride ourselves to be family-oriented and we hope that our constituent body is able to carry on this culture that is unique to the School of Economics.
What is the Management Associate Programme (MAP)?
The OIKOS MAP is an annual programme for Year 1 Economics students to develop their leadership and management skills under the guidance of the OIKOS Management Committee. Associates will be able to hone various skills within their individual departments, have a greater involvement in OIKOS events and happenings, as well as give back to the student body.
How can I stay updated about upcoming OIKOS events?
Information on OIKOS events will be sent to your SMU emails, as well as posted on our various socials above. Additionally, do keep a lookout for our quarterly OIKOS Newsletters which will be launching this year!
Continue your journey here...