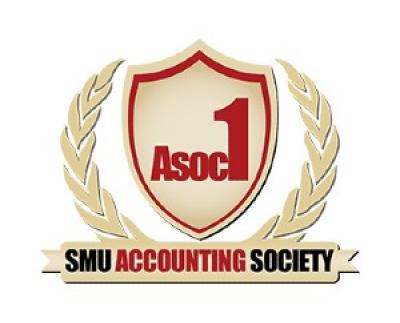 SMU Accounting Society (ASoC) (CBd)

ABOUT US
SMU Accounting Society (ASoc) is the official Student Constituent Body (CBd) for the School of Accountancy (SoA).
ASoc strives to establish an integrative culture within SoA, and promote an environment for holistic development through academics, events, student life, professional development and community projects. ASoc's diverse events include ASoc Camp, ASoc Night, ASoc Axplore, Welfare Drives and the MCCY Charity Transparency Assessment Community Service Project.
Most importantly, being the voice of Accountancy students in SMU, ASoc represents students' interests when engaging with various faculty, offices and external stakeholders. Check us out on our Website, Instagram and LinkedIn via the links above to find out more!
OUR TRAINING
We have monthly mega-meetings for the entire committee to meet and provide updates. Event-specific meetings will be dependent on your department.
HOW TO JOIN THE CLUB?
There will be a google form for you to fill up, and a short interview process for us to get to know you better!
"ASoc has let me break out of my comfort zone and work well with other people to provide students new experiences and benefit"
- Raj, Professional Development Executive, School of Accountancy, Year 2
"As a confused freshman lost in the eccentrics of the university, I found a family in ASoc. My ASoc experience was critical to my character and social development at SMU. Here, you obtain endless learning opportunities, forge lifelong memories and lasting friendships."
-Joanne, Events Executive, School of Accountancy, Year 2
What are the events that ASoc organises?
Annually, ASoc organises a myriad of events. In Semester 1, we hold events like ASoc Night, AlumNight, Company Visits and a Halloween event. For Semester 2, we have ASoc Axplore, Seniors' Night and Utopia. Not forgetting our action-packed summer break event ASoc Camp! Across the entire year, we hold welfare drives for SoA students!
What are the various roles and responsibilities for ASoc Management Committee Directors and Executives?
In ASoc, there are the Top 4 and 5 Directorial positions – President, Vice-President, Honorary General Secretary, Honorary Finance Secretary, Professional Development Director, External Relations Director, Student Life Director, Marketing Director and Events Director. Within each department, there are also executive positions students can sign up for. As ASoc Elections Fever is right around the corner, keep a look out in your emails to find out more details about the responsibilities of each position!
Continue your journey here...