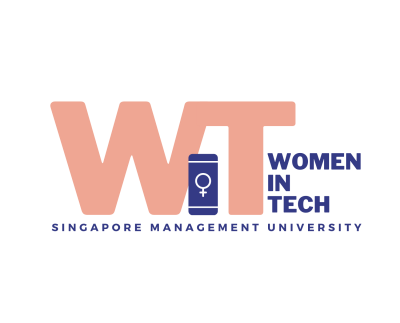 SMU Women in Tech

ABOUT US
SMU Women in Tech is an inclusive community that promotes gender diversity in technology, with an emphasis on female representation and empowerment in the field. We support our members in pursuing their aspirations in the tech industry through three pillars: Education, Empowerment and Community.
The WiT community (i.e. members of WiT) can expect initiatives aimed at technical upskilling, community-building as well as personal and professional development, with the aim of bridging the gap in access to resources between the student tech community and corporations. We're partnering with prominent companies from various industries to offer enriching programs to the WiT community, so join us to receive exclusive updates and priority sign-ups – don't say bojio!
KEY EVENTS
Major events offered by WiT include, but are not limited to:
Women in Tech® panels
Creates opportunities for conversations and networking on women in tech topics that ranges from featured stories about successes and challenges in the tech industry, how the industry has changed for women, and what advice our panelists have on finding mentorship and community with other women in the industry.
Technical workshops for in-demand technologies
In partnership with our industry partners, SMUWiT will bring technologies, skills and topics that outside the curriculum as means of exploratory exposure for students.
Technological challenges and Hackathons 
Supported by our industry partners SMUWiT will bring students opportunities to solve real world problems with new and exciting technologies. 
Networking with seniors and industry partners 
Held every semester, our members can look for exclusive networking opportunities with seniors within SMU to learn about their journey as well as our industry partners that come from a wide range tech sectors from banking to tech driven start ups. 
For events with limited capacity, members will obtain a priority invite.
HOW TO JOIN THE CLUB?
Everyone is welcome to be a member of the WiT community! You can attain official membership by filling in a Google Form just once. To be considered as an active member of WiT, you will need to attend at least two events per semester. Being a member allows for priority for events with limited vacancies!
"Seems like a nice inclusive group and not is as intimidating to join as compared to other tech ccas, especially for a yr 1."
- Clara Aw Juan Qi SCIS Y1
"Considering how Tech is a male-dominated environment, it would be nice to be able to network with other women and learn more about Tech and the opportunities available :)!"
- Toh Siao Suen Isa SOA Y2
Why should I join SMU WiT?
If you are passionate about tech and/or the tech industry and desire to be part of an empowering community that seeks to make tech accessible to all, look no further! You'll find that WiT is where you belong – an avenue where you can pursue your professional agenda, upskill technically and develop holistically with a like-minded support network.
How do I become a member of WiT?
Simply join our Telegram group (@smuwit) and follow us on Instagram/LinkedIn! Being a newly founded student organization, we are expanding our community within SMU and membership will be open to all (did we mention it's also free?).
What events and programs can I expect as a member of the WiT community?
Great news! WiT is offering several programs in collaboration with industry partners. This year, our agenda includes a mentorship program and workshops with Google, our flagship networking night, technical interview preparation workshops, and so much more. Don't forget to follow us on our various social media platforms (@smuwit on Instagram, LinkedIn, Telegram) so that you don't get FOMO!
What is the commitment level like?
As WiT operates on the basis of events, the commitment levels depend on the program(s) you join. Certain initiatives such as mentorship programs and workshops require reasonable weekly commitments, whereas others are purely ad-hoc (i.e. one-off events).
Continue your journey here...