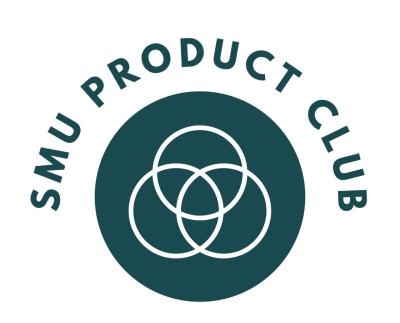 SMU Product Club

ABOUT US
SMU Product Club is a special interest club that bridges the domains of Business and Technology by providing a platform to educate SMU students on the growing field of Product Management.
Our vision is to forge a community of future product leaders, and we achieve this through exciting programmes such as Product Management 101 (PM101) and Product Management Experience (PME) for aspiring PMs!
From students with zero background in tech to avid tech enthusiasts, we welcome all SMU students to join us in our exciting programmes!
KEY EVENTS
Product Management 101 (PM101)
Discover your passion for Product Management with PM101, an engaging series of introductory classes. Designed for beginners, these lessons cover essential topics such as product strategy, product roadmap, and more. No prior knowledge required - join us for easily digestible content and start your journey into the world of Product Management today!
Product Management Experience (PME)
Take your Product Management aspirations to the next level with PME, a program led by industry professionals that delves deep into the foundations of product management. Develop valuable industry-level skills, improve your product sense, and apply them through engaging case studies and Internal Product Challenge.
Expert Sharings
Open to all SMU students, we invite experienced Product Managers from a range of companies, where they share a wide range of PM-related topics to inspire and guide you in your journey to becoming a Product Manager.
Networking Night
An exclusive event that provides a unique opportunity to connect with industry professionals, gain insights into the field of Product Management and expand your network. Through a fireside chat with our panel of experienced product managers, gain valuable knowledge and tips to kickstart your product management journey.
OUR TRAINING
Join our telegram chat for announcements regarding our workshops and events!
HOW TO JOIN THE CLUB? 
Become a member by completing our membership form! To keep your membership active, you are required to attend a minimum of 4 events per semester.
To participate in our Product Management Experience there is a 3-stage application process. Start by completing a form screening, followed by a product group case interview, and finally, connect with our team over a friendly coffee chat.
Who are the training sessions conducted by?
For the Product Management Experience, training will be conducted by a team of seasoned Product Managers with real world experience in the respective topics that they will be covering.
For Product Management 101, the introductory lessons will be conducted by our very own Events Directors, each with their own experiences in Product Management through esteemed internships and self-proposed projects. Curriculum also includes inputs from our advisors inclusive of seniors and experienced Product Managers.
Do I need experience to join any of SMU Product Club's events?
Most of our events assume little to no prior experience in Product Management! However, for Product Management Experience, it will be preferable for candidates to have at least been through the PM101 curriculum and have sound knowledge of a software development cycle beforehand.
Continue your journey here...