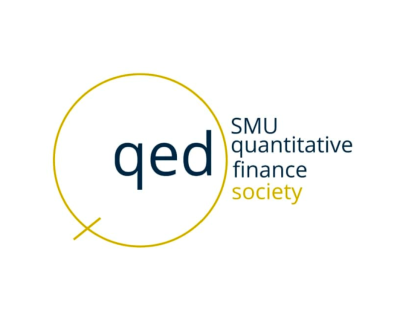 SMU Quantitative Finance Society (Q.E.D)

ABOUT US
QED was established in 2006, in conjunction with the launch of the undergraduate Quantitative Finance (QF) program. QED has been established with the objective of inculcating cohesiveness and a sense of belonging among the QF majors, as well as to promote the knowledge of financial engineering and computational finance to interested members of the University.
QED is responsible for organising and planning for activities that will display and highlight the usefulness and practicality of QF, such as seminars conducted by industry experts and intra and inter school competitions. QED also undertakes the responsibility of exposing members of the SMU community to QF by encouraging participation in its activities.
KEY EVENTS
Breaking Into Quant Street
An industry talk where alumni share their raw and candid insights on how to break into the competitive industry.
QF July Forum
A seminar from our Professors and alumni that aims to introduce new students to the world of Quantitative Finance and what it can offer you.
Chinese New Year Gathering & Mid-Autumn Festival
Nights where QF students, professors and alumni gather together and bond over festivities
OUR ACCOMPLISHMENTS
Flow Traders Industry Talk
We partner with banks, trading firms and hedge funds to host recruitment events and offer special access to internship opportunities!
WorldQuant-SMU Alphathon
A platform for students to put their quantitative skills to the test and solve real-world problems in the markets.
UBS-SMU Trading Challenge
Giving students a taste of what it's like to be a trader on the desk through an interactive, fast-paced simulation.
HOW TO JOIN THE CLUB? 
Students who declare QF as their major will automatically be included in the QED Society and our mailing list.
"The alumni sharing at the BIQS event was very eye-opening and I appreciate that it is tailored to what the students are interested in. The choice of alumni speakers was good as they are relatable and willing to share honest and practical perspectives since they were recent graduates."
- Jolie Fong, School of Business, Year 2
"QED has given me the opportunity to build relationships with esteemed industry professionals and to gain a first hand perspective in understanding upcoming trends and techniques in the Financial industry. Being part of the QED Exco is truly an experience unlike any other!"
- Brandon Tan, School of Business and School of Computing and Information Systems, Year 3
"The club has allowed me to meet multiple like-minded individuals in the financial sector both in and out of school, helping to expand my knowledge and expertise in the field."
Keith Lim
Year 2
"The club has given me experience dealing with multiple parties within and outside of the school as I coordinate events for the club."
Victor Tan
Year 2
Previous
Next
What does QED do?
Our main responsibilities are to connect the QF majors with the financial industry and our esteemed QF alumni, to plan and host events that promote technical skills, interview preparation sessions as well as networking opportunities.
Do I require prior investing or finance background before being a QED Exco?
Nope! The great thing is that QED exists to serve the needs of the QF majors. By being an Exco, you will get to plan events that ultimately seek to benefit the QF majors, including yourself. Hence, what you will need is a listening ear to understand the needs on the ground, a keen mind to perceive what are potential industry trends, that may be useful to create workshops for that will enable our society. We will be looking out for servitude and passion to bring the society to greater heights.
What are the time commitments?
What are the time commitments? Answer: As a member, you may sign up for events on your own time and there is no attendance requirement. As an exco, it is proportional to the amount of effort you put in to plan and execute events for the members.
Continue your journey here...