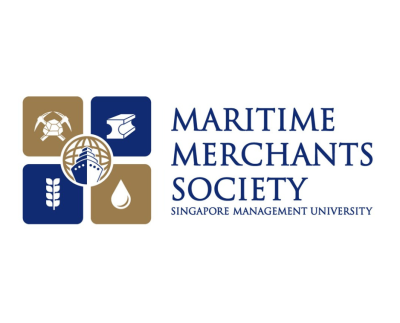 SMU Maritime Merchants Society

ABOUT US
A student-run society which seeks to elevate both the Shipping and Commodities sectors across the SMU body through experiential activities that develop industry knowledge and build skills. Some of our activities include workshops, industry mentorships, bonding/networking activities, overseas study missions, etc.
MMS consists of two Chapters:
Maritime Chapter represents students from the Operations Management Major (Maritime Business & Operations Track)
Merchants Chapter represents students from the Finance Major (International Trading Track)
Students can expect to gain further insights into these industries through Non-Credit Courses taught by industry practitioners that range from shipbroking, chartering to the trading strategies of physical commodities such as oil, metals and agriculture.
KEY EVENTS
Know-Thy Commodities (KTC) Primer Presentations
Here, each group (4-5 pax) researches over a 9-week period on a chosen commodity and builds up for a final presentation. Participants will learn how to conduct thorough analysis on commodity products and gain valuable feedback from the final presentation as it is witnessed by industry experts, alumni, and peers.
Networking Night
This event allows various parties, such as alumni, students, industry partners and even our own professors for a night of networking and fun! 
Mentorship Programme
In this programme, MMS brings together students and industry professionals, providing an opportunity for students to gain in-depth insights into the industry and explore a wide range of exciting career possibilities.
Industry Study Mission (ISM)
Students will embark on an up-close and immersive experience, potentially visiting shipyards, coffee processing facilities, and dynamic offices abroad. This firsthand encounter offers a unique opportunity to broaden your horizons and gain valuable insights into the world of commodity and maritime-related industries. This remarkable journey combines education, exploration, and unforgettable experiences.
OUR TRAINING
| | |
| --- | --- |
| Day | Fridays |
| Time | 7:00 pm to 9:00 pm |
| Venue | Seminar Rooms |
HOW TO JOIN THE CLUB? 
To be a part of MMS, you simply need to be a SMU student with your declared track in International Trading or Maritime Business and Operations.
To join as a KTC Research Analyst, there will be an interview conducted by our EXCO to test your understanding and interest in the commodities sector.
"My SMU experience was definitely made better by MMS as I was surrounded by like-minded individuals. The club also offer countless networking and internship opportunities that allowed me to gain perspective and knowledge outside of the classroom."
- Sam Foo, School of Business, Graduate
"MMS gave me a lot of opportunities to network and meet many people from the industry. I especially enjoy the alumni networking events where we really get to ask many questions and to connect with them."
-  Samuel Leong, Member, School of Business, Graduate
"My first MMS experience was joining my peers on an eye-opening overseas ISM (industry study mission) to Ho Chi Minh where we visited container ports and various factories. It was a good mix of fun and serious learning regarding Vietnams' exports and the maritime supply chain. Moreover, MMS has given me many opportunities to network with like-minded individuals, who share a similar passion, as well as distinguished professionals who have expanded my knowledge on shipping and trade. I was able to befriend international students, a mix of different European nationalities, when MMS hosted exchange students from Denmark's Copenhagen Business School (a structured exchange programme between CBS and SMU). MMS threw a welcome party as well as a few other meet ups for us to all interact. I learnt a great deal from them, and I am looking forward to seeing them again on my exchange there in the future."
Ajay Panoo
SOE: Year 4
"Joining the Maritime Merchants Society was one of the best decisions I've made in SMU. The club provided me with ample resources and opportunities to pursue my interest in commodities. Above that, it allowed me to meet like-minded peers and seniors, many of whom became my closest friends in SMU."
Arun Kumar
SOE: Year 3
Previous
Next
How do I become a member of MMS?
The club is open to all students. However, students interested are encouraged to declare majors in Finance (ITT) and Operations Management (MBOT) to receive emails with regards to the upcoming activities planned.
What kind of opportunities can I get as a member of the club?
The club partners with global firms to give members the chance to learn more about the firms and network with people there. The club organises overseas learning journeys which enable members to get a macro view of the industries that they are interested in.
Continue your journey here...