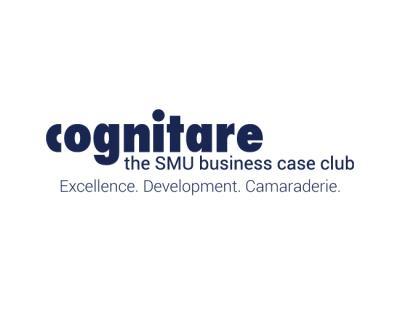 SMU Cognitare

ABOUT US
Cognitare is SMU's premier business case club, the only club in SMU that offers exposure to international case competitions, all sponsored by LKCSB. Our members get to go against the best business schools around the world, devising solutions for some of the biggest challenges companies face today. Our comprehensive training develops critical thinking, strong business acumen, and effective communication skills that will bring you far not only in your academic but also in your professional journey.
The TOP choice to kickstart your journey in SMU:
1. Transferable Business Skills 
Our intense training allows members to develop analytical skills, learn to communicate effectively, and build confidence to help you grow both personally and professionally.
2. One-of-a-kind Experience
Our members get to travel to destinations around the world and compete against world-class business schools. Recent destinations include the United States, Canada, Denmark, Australia, and the Netherlands.
3. Professional Headstart 
Our members get to leverage our strong senior and alumni network as a launchpad for your dream career across various industries such as Investment Banking, Private Equity, Management Consulting, Tech, and FMCG.
To find out more, do visit our website or our LinkedIn page.
Alternatively, you can also Telegram message Darren at @Darren21 or Megan at @mugmugmuggen to find out more!
OUR TRAINING
| | |
| --- | --- |
| Year 1 Training | Weekly business cases to be presented at the end of the week to seniors |
| Estimated Preparation Duration | 30 hours |
| Training Duration | 3 hours |
OUR ACCOMPLISHMENTS
International Case Competition @ Maastricht 2023 (The Netherlands)
Global Champions
McDonough Business Strategy Challenge 2023 (The United States)
1st Runner Up
Thammasat Undergraduate Business Challenge 2022 (Thailand)
1st Runner Up
Global Microfinance Case Competition 2022 (Australia)
Global Champions
McDonough Business Strategy Challenge 2022 (The United States)
2nd Runner Up
University of Technology Sydney (UTS) Global Case Competition 2021 (Australia)
Global Champions
Scotiabank International Case Competition 2021 (Canada)
2nd Runner Up

Chulalongkorn International Business Case Competition 2021 (Thailand)
2nd Runner Up

McDonough Business Strategy Challenge 2020 (The United States)
Global Champions
Sauder Summit Global Competition 2020 (Canada)
1st Runner Up
Copenhagen Business School Global Case Competition 2019 (Denmark)
Global Champions
HOW TO JOIN THE CLUB? 
There are 3 rounds of interviews:
| | |
| --- | --- |
| Pre-screening: | Where you will solve a short business case to provide exposure |
| Superday: | Which will consist of a combination of individual interviews and a group task |
| Coffee Chat: | Where you will meet our senior members in-person |
" Cognitare has given me an invaluable toolkit to excel wherever I find myself in, be that in my career or in school. I have also found a tight knit group of friends that I can depend my life on in times of need. "
- Alexander Gee, Y4 Senior Member, Business Management and PLE (DDP)
"Cognitare has allowed me to forge important friendships and at the same time taught me important skills that have helped me both academically and professionally. It has also given me a safe space to explore my creativity and potential. Joining the club is the best decision I have made and the rewarding experience Cognitare has given me cannot be easily replaced."
- Cheng Yee Ting, Y2 Junior Member, Accountancy and Business Management (DDP) 
"Cognitare has given me an invaluable toolkit to excel wherever I find myself in, be that in my career or in school. I have also found a tight knit group of friends that I can depend my life on in times of need."
Alexander Gee
LKCSB and SOSS: Year 3
"Cognitare has played a huge role in my personal and professional growth. Besides picking up skill sets such as creative and critical thinking, I have learnt more about myself – my values and areas of improvement. I also got to forge lifelong friendships while learning from and alongside bright and driven individuals."
Hui Min Chua
LKCSB and SOSS: Year 2
Previous
Next
What sets you apart from other academic clubs in SMU?
Cognitare has a long-standing history as SMU's pioneer (and only) business case club. And as SMU representatives, we get to travel overseas for international competitions sponsored by the faculty. 
While training for these competitions, the skills and knowledge gained are often widely transferrable, regardless of the industry you wish to end up in. This is evident in our alumni and even current members who have diverse skill sets and careers in different fields.
In addition, we hold our members to high training standards to groom them into career-ready individuals. By maintaining a much smaller club size, this also gives us more face time with each member to strike close-knit and meaningful connections.
What's a business case?
A business case is a document that encapsulates a company's problems, an overview of the industry, the company's position in the competitive landscape and financial situation. It also comes with an appendix of additional data and financial statements meant to aid the reader's understanding and analysis of the company.
How does regular training work in the club?
Our members will have to analyse the information given in the business case, along with secondary data, to come up with feasible and innovative solutions for the company. The team will learn through presenting and defending their proposed solutions to a panel of senior members. Senior members in the club – who often come from diverse professional backgrounds like Tech, Finance, Consulting, FMCG etc. will then give concrete, actionable feedback to juniors.
Why is the commitment level higher for Cognitare compared to other clubs?
We believe that this is necessary to ensure high quality deliverables and high training standards. As the school commits to members' development in the club, we do our part by training hard and performing well during competitions. The commitment level of the club is also a small glimpse of how future working life would be, which is in line with how we train our members to be career-ready individuals. Some of our members are able to handle Cognitare and other commitments like Muay Thai or Dance. It is difficult but it is not impossible. A good dose of time management and prioritization will help you balance your external commitments with Cognitare.
What qualities do you look for in an applicant? 
We understand that as Year 1s, a business case is very foreign to you. This is why we look out for more innate qualities like critical thinking, natural business acumen and the ability to convey your ideas clearly and concisely.
Additionally, commitment and grit are also key values we look for. We would love to learn more about what drives you as an individual to see whether you are a good fit for the club.
Continue your journey here...