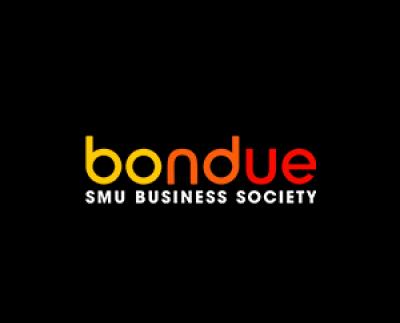 BONDUE (CBd)

ABOUT US
SMU Business Society, affectionately known as Bondue, is the student representative body of Lee Kong Chian School of Business (LKCSB). Founded in 2005, we are the largest student body amongst the seven faculties in SMU.
Our vision is to cultivate a dynamic and fulfilling university experience for SMU Business Students.
Our mission is to unify SMU Business Students, while serving their welfare, social, academic and professional interests.
The term "Bondue" was coined when our founders were having a bonding session. That was when an idea prompted one of them with the question: "what if we named our Business Society, Bondue, which stands for Bond with You?". Thus, that was how Bondue got its name. Over the years, the Bondue spirit kept the school body so closely knitted and, as we like to say – One Bondue, One Family.
KEY EVENTS
Signature events
Welfare Drives, Bondue Camp, Slightly Scarlet, Alumni Networking Night, and Bondue Business Forum  
Unique initiatives
Bondue's Leadership Development Series (LDS), is our annual leadership program that aims to fuel personal and professional growth and further enhance the leadership capabilities of individuals through diverse opportunities and initiatives.
HOW TO JOIN THE CLUB?
ALL students from Lee Kong Chian School of Business are automatically members of Bondue and are affectionately referred to as Bonduers! However, do note that all Organising Committee members are required to go through the recruitment process.
For those who are interested to run for elections to be a part of the 20th Executive Committee, do attend the elections info session when school starts! Lookout for the sign-up link in your inbox!
Being a part of the 17th Bondue Executive Committee gave me the opportunity to expand my professional network and create lasting friendships at SMU. Going through various Bondue events like Alumni Networking Night, Bondue Camp and Slightly Scarlet has allowed me to develop my leadership skills and form unforgettable experiences.
- Phang Yu Sheng (Sean), Corporate Relations Deputy Director, School of Business, Year 2
My experience being in Bondue's Organising Committee for ANN 2021 was nothing short of amazing! If you're looking to gain meaningful experiences in your University life alongside meeting new friends, Bondue is the perfect place for you regardless of which year you're in. Countless opportunities await you once you're in!
- Shafiqah Salil, Organising Committee Member (ANN), School of Business, Year 4
What can Business Students look forward to from Bondue?
Bondue organises orientation camps annually for incoming freshmen to create lasting memories, forge new friendships and be part of the best summer experience. We also organise welfare drives twice per semester to motivate and spur our fellow Bonduers on during the school period. Just as the saying goes, the best way to everyone's hearts is through food!
We will be having our annual philanthropic fashion show — Slightly Scarlet, on 9th September 2023. This year, we seek to raise funds and increase awareness for our beneficiary, Singapore Children's Society. Being the first and only philanthropic fashion show in SMU, Bondue is taking a step to be part of something bigger than ourselves.
Other than that, Bondue also organises events catering to the professional development of Business students - namely Alumni Networking Night and Bondue Business Forum. Business students can look forward to better preparing themselves for the workforce through the expertise and experiences shared during these events.
How can I participate in the planning of Bondue events?
Organising Committee Recruitment Drives for Bondue events are conducted 3-6 months before the event. By being a part of an Organising Committee, Bonduers can look forward to planning their events, hone their leadership skills and even make new friendships! Please keep a lookout for our emailer and social media accounts for event sign-ups.
How do I find out more about the majors offered by LKCSB?
Bondue organises Know-Thy-Major (KTM) sessions each semester to allow students to find out more about each major from the respective Academic Advisor. To find out more about Business Majors, click here. Do look out for your school email for our upcoming KTM Sessions!
What is the difference between BONDUE and SMUSA?
While BONDUE and SMUSA are both student government bodies in SMU, BONDUE specifically serves Lee Kong Chian Business students (Bonduers) while SMUSA serves the entire SMU student body. Our unique events and activities are only available to our Bonduers to participate in and enjoy. As a Business student, you can look forward to events and welfare drives by both BONDUE and SMUSA!
Continue your journey here...