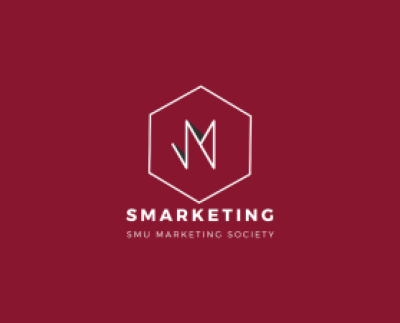 SMU Marketing Society (SMARKETING)

ABOUT US
SMARKETING is a dedicated marketing society in SMU. We are the go-to platform for students to navigate the marketing industry, spark engaging conversations, create exciting opportunities and empower future marketing leaders. You can expect various events revolving around marketing starting from company sharings, company visits, intern insights, mentorship, to networking night.
Our signature Marketing Networking Night allows SMU students to connect with marketing professionals from a wide range of industries on a massive scale. We have previously invited speakers from L'Oreal, Tableau, Twitter, and more. At SMARKETING, we always put the welfare of our members first. Every year, we organise welfare drives to share our love and support to our members.
We are honoured to invite all SMARKETING members to attend all our events and let us guide you through the multi-faceted nature of the marketing world! Sign up as a member today (link in FAQ!) to gain access to our member-exclusive events. Be sure to look out for the sign-up links to our events in your email or our telegram channel!
KEY EVENTS
Marketing Networking Night
Members can take this opportunity to connect and network with professionals from various industries in the marketing field, in order to gain a deeper understanding of the marketing field and connect with other like-minded individuals
Company Talks & Visits
Members will get access to exclusive company visits and sharings where they can learn first-hand about various companies' work culture and marketing practices. 

Intern Insights
Members can gain exposure to the marketing industry through the lens of the alumni and learn more about their previous internship experiences.
HOW TO JOIN THE CLUB? 
There is a sign-up fee of $12 for lifetime exclusive access to all SMARKETING events. You will have to submit the membership form and pay the fee. After that email us a screenshot of the transaction and we will send you a confirmation email!
"I am interested to take marketing as my major and I hope that by joining SMARKETING, I would gain a better understanding of the marketing industry and meet like-minded peers."
- Chow Xuan Rong Nicole, School of Business Year 2
"I want to explore business majors through clubs! I am interested to know more about marketing as I think marketing is all around us :)"
- Florence Nathania Liharja, School of Business Year 1 
"I am interested in and plan to specialise in marketing, hence I'm keen to participate in SMARKETING to find out more about marketing, as well as to gain more learning/internship opportunities through the platform."
Ooi Chu Han
LKCSB: Year 1
"SMARKETING has helped me to better understand the marketing industry through their company visits and workshops. I think it's rare to get the opportunity to visit the offices of so many leading companies! Through SMARKETING's events, I gained a better idea of the industries and marketing functions I'm interested in."
Wong Wai Yi
LKCSB: Year 4
"I am currently pursuing a career in marketing and I am hoping that SMARKETING can provide me a platform to meet people with the same passion and interest! Also, I am really keen on the company visits and the mentorship programme that they provide."
Keith Chan Wei Shyan
LKCSB: Year 1
"As an incoming freshman, I want to meet like-minded peers and seniors who can provide me with valuable guidance. 
I'm interested in pursuing Marketing as a possible major track and I hope to join the club to learn more about Marketing both as a career option and as a discipline of business."
Cedric Tay Tze Ming
LKCSB: Year 1
Previous
Next
Continue your journey here...