Certain photos and images featured in the following video were taken pre-COVID19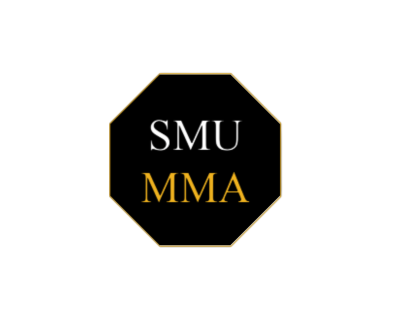 Certain photos and images featured in the following video were taken pre-COVID19
SMU Mixed Martial Arts (SMU MMA)
ABOUT US
SMU MMA is a recreational CCA where members learn various self-defence art forms including Muay Thai and BJJ. We place emphasis on achieving the balance between discipline and resilience, together with forming bonds and friendships. SMU MMA hopes to instil in every member the courage to try, the resilience to train, and the discipline to practice. 
BJJ: Brazilian Jiu-Jitsu is a self-defence martial art form that focuses on groundwork, mainly through grappling and submissions. It relies heavily on the technique of the individual to manoeuvre on the ground to immobilise the opponent.
Muay Thai: Muay Thai ('Thai Boxing'), is a martial art form that focuses on stand-up striking. It is similarly called the "art of eight limbs". Practitioners will utilise their fists, elbows, knees & shins as the main points of contact.
Core Values: Sense of community; Discipline; Willingness to learn; Resilience
KEY EVENTS
SICS Week
SICS Camp
Vivace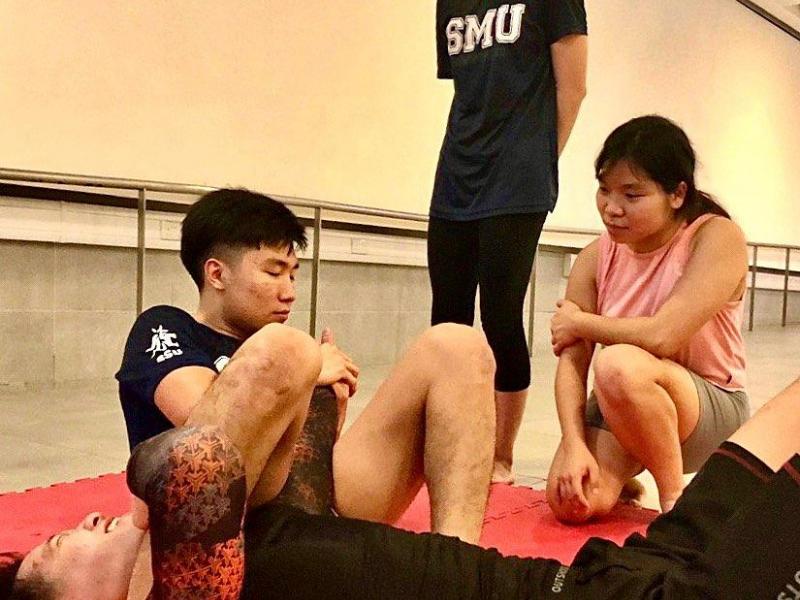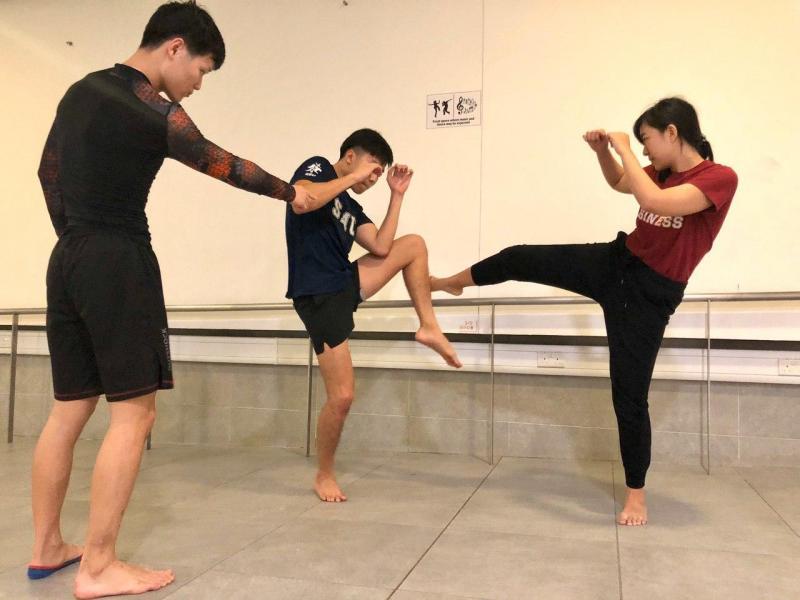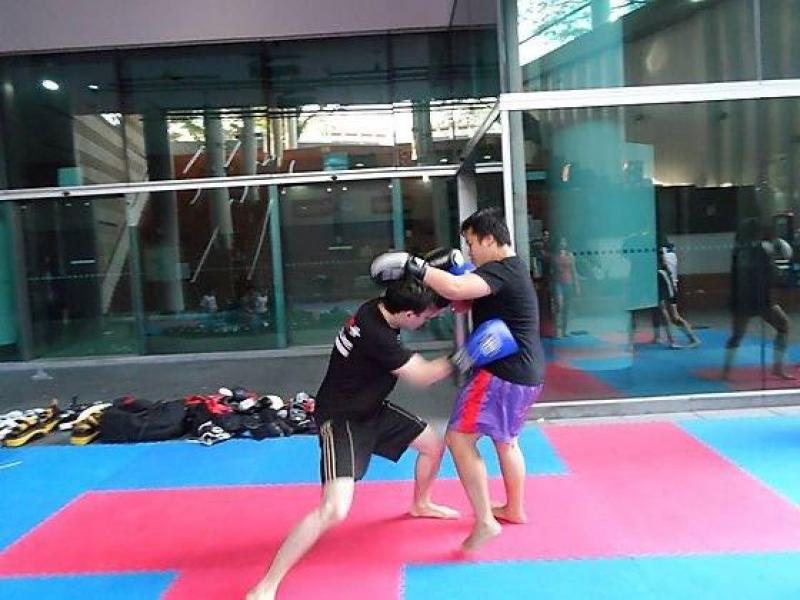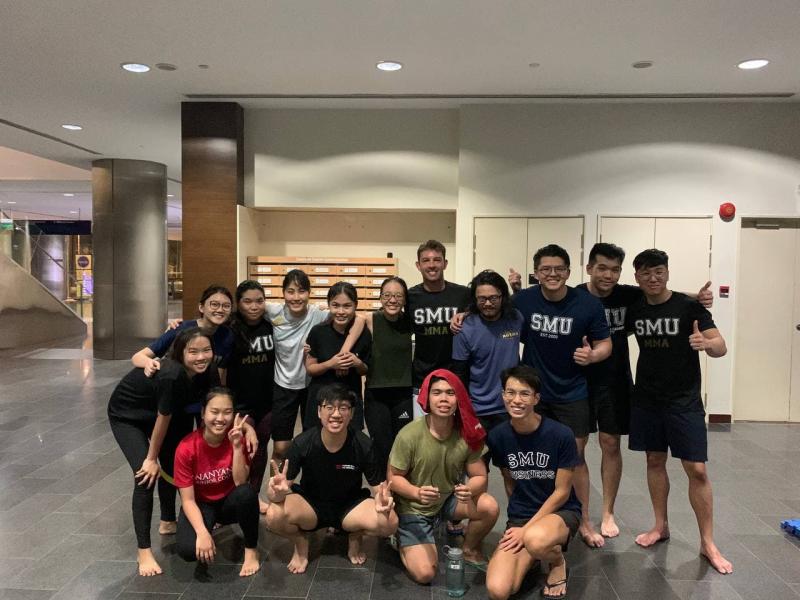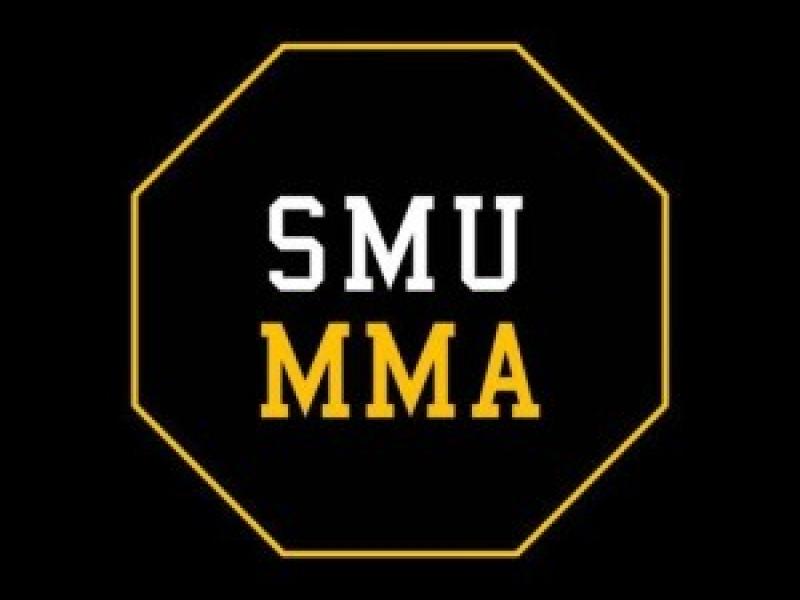 OUR TRAINING
BRAZILIAN JIU-JITSU AND MUAY THAI
| | |
| --- | --- |
| Day | Thursdays (subject to changes) |
| Time | 7:30 pm to 9:30 pm |
| Venue | SMU Admin Building Level 3 (outside Multi-Purpose Sports Hall) |
DO I NEED TO AUDITION TO GET INTO THE CLUB? 
No, SMU MMA welcomes everyone regardless of their experience level. There will be free trial sessions for people to attend so that they can have a sense of what usual training is going to be like. These trial sessions are free-of-charge.
"If you have always wanted to try something new but never knew what to try, come join us! People of all levels are welcomed so don't worry if you are a beginner. The coach will patiently guide you step by step." 
- Abigail Lee, Vice-President, School of Computing and Information Systems, Year 3
"I've always wanted to learn mixed martial arts. However, the fees offered at the various gyms in Singapore are very expensive. Luckily, SMU MMA is very affordable and you only have to pay a small sum of money and at the same time, learn both Muay Thai and BJJ!"
- Kwek Hong Heng, President, Lee Kong Chian School of Business, Year 3
"When I first started, I was scared and felt that it was very awkward to roll all over the mats when we practice BJJ. But slowly, with the help of the friendly people around me who guided me through every training and the coach who ensures we do the chokes properly and safely, it stopped feeling awkward and I started having a lot of fun while learning." 
Abigail Lee
SIS: Year 1
" I wish to improve my physical fitness and learn some moves for self-defense. I have always found it to be cool. However, I didn't manage to learn in the past due to time constraints."
Jovin Yap
SIS: Year 1
" I want to join a CCA that allows me to pick up a new skill while being a challenge. I also want to maintain a fitness level and learn self defence."
Suyi Toh
LKCSB: Year 1
" It's a way to keep fit while learning self defence, I also wanted to learn a new sport."
Charis Lim
SIS: Year 1
" I want to make friends, keep fit and learn some self-defense techniques."
Hannah Teo
SOSS: Year 1
"Rolling fun..."
Justin Hoo
SOL: Year 3
" I am interested in martial arts and would like to train with other like minded individuals as a form of stress relief and leisure. "
Joel Tan
LKCSB: Year 1
" I am interested to learn something new :)"
Shadichha Adhikari
SOSS: Year 1
" I guess I really want to learn more about self-defence and to get stronger physically and mentally. I've tried judo before and I felt like I wanted to explore more beyond that."
Sylvia Goh
SIS: Year 1
" I am interested in learning martial arts, but I don't want to learn just one martial art."
Tan Xin Yi
SIS: Year 1
Previous
Next
Who conducts regular training for the club?
Our training will be conducted by highly-qualified coaches that have years of experience in mixed martial arts. Each training will likely have 1 hour of Muay Thai and 1 hour of BJJ.
Do people get injured a lot during practice?
No, our utmost priority is safety. No one wants to hurt anyone and no one wants to get hurt. Members are always reminded to tap their partner when they feel the choking sensation.
How are trainings held from now on, due to COVID-19?
Currently, physical training is temporarily suspended at school. However, once the situation improves, we will be conducting our physical training at SMU admin building with social distancing measures in place to make sure everyone is training in a safe environment.
How do I join as a member?
We will be sending out recruitment emails to all undergraduates. All you have to do is fill up the membership form and pay the membership fee of $30 (subject to changes) to our Finance Director. Thereafter, you will be added to our members-only telegram group and will officially become a member for that particular semester.
Additionally, you can always email us at smumma@sa.smu.edu.sg or slide into our Instagram DMs at https://www.instagram.com/smu_mma/ to express your interest!
Continue your investigation here...