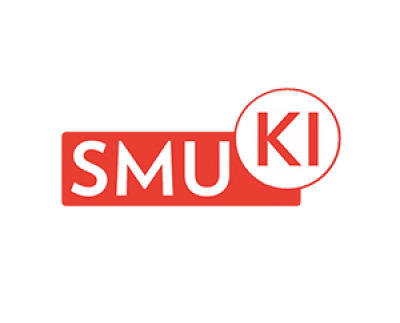 SMU Komunitas Indonesia (SMUKI)

ABOUT US
Gathering all Indonesian students at SMU and all those who are interested in Indonesian culture! 🇮🇩 SMUKI is where you can discover Indonesia's vibrant and diverse culture, be it through interactive workshops or our annual musical production GAYA. Go beyond our events and dive deeper into the Indonesian scene by participating in fun bonding activities with fellow Indonesian students or by networking with SMUKI alumni in our networking events.
KEY EVENTS
GAYA (Gelar Budaya)
Signature musical production with over 1,000 spectators annually. This production is open to all students and we welcome non-Indonesians too!
SMUKI Gathering Day x Bidding Workshop
Introduction of the BOSS bidding system to the incoming students in conjunction with a welcome dinner with the freshmen and seniors.
TIMEBOND
SMUKI's freshman orientation camp!
MAGER (Makan Together)
Food workshop where we introduce various Indonesian dishes to the general SMU community.
HARI BUGAR
Compete in fun sports games and get exercise to stay fit during the semester!
OUR TRAINING
Excos will have weekly meetings among themselves to discuss about their program for their term. 
GAYA members will have practices and meetings based on their roles in the production. 
HOW TO JOIN THE CLUB? 
Students do not need to audition/ interview to join SMUKI, all are welcome to be a part of our community! :) Elections and Interviews will only be held for those who wish to become part of the Executive Committee.
"SMUKI is a home away from home for me - It further enriches my life and my SMU journey! It is a place where I meet fellow Indonesians and learn many things, and of course have lots of fun yeah :)"
– Hardyanto, School of Computing and Information Systems, Year 4
"SMUKI was the very first family I had when I first came to SMU. As I learn and experience new things in SMU, SMUKI continues to be my chosen family, a family who I would run to whenever I miss the warmth of home."
- Jennifer Kenly, School of Accountancy, Year 3 
"To me, SMUKI is a home away from home. It is a huge part of my SMU journey! It serves as my safe haven during my transition to studying in SMU and it is also a place where I made a lot of friends for the past 2 years"
Maximilian
Year 3
"With SMUKI, I am able to express my creativity while promoting the Indonesian culture. The people here make me feel like home when I'm away from home. The SMUKI family has been an inseparable part of my journey here in SMU."
Magdalena
Year 2
Previous
Next
How is the members of Excos selected?
Top 4 roles (President, Vice-President, General Secretary, Finance Secretary) are to do a campaign speech for the positions. They are then selected based on a voting system. The rest of the Exco members are to do an interview where the newly appointed Top 4 Exco will select the new exco teams.
Continue your journey here...